Leveraging Hubspot-Oracle SoD Integration | Elixir Solutions

This Finnish manufacturer of nano-technology equipment was feeling a pain when they reached out to us. This pain, all of our customers know it : the need to involve marketing in the sales process. Indeed, since the buying process is now more and more done online and by self-education, sales need marketing to approach the prospects. They also need to know how the prospects interacted with marketing content.
Building bridges between the two departments, that's what we could realize. Here, it was through an integration between two systems.
Our customer uses now Oracle SoD for their sales activities, and HubSpot for marketing purposes. In order to combine the best of both tools, they reached out to Elixir Solutions. Not only build an integration between both platforms, but also to design a flow that would allow meet their business needs.
In this blog, you will learn how, like them, you can manage marketing-generated opportunities in Oracle. This is done with an integration that goes far beyond simply mirroring data between two systems.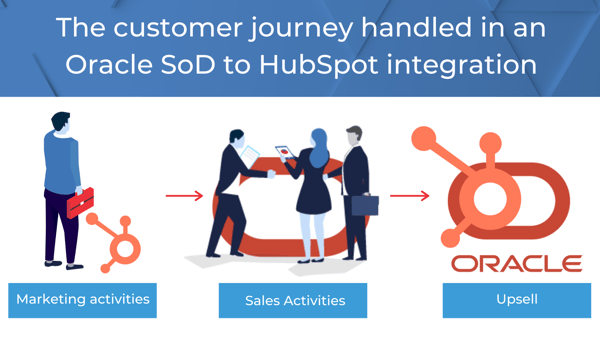 1) Send only the Sales-qualified leads to your sales reps

As much as we don't like having that a mailbox filled with spam, a CRM filled in with irrelevant leads and contacts is the stuff of nightmares. That's why we have set up the integration so that only the sales qualified leads would be sent to Oracle SoD. How? By assigning lead scores to the leads. When the score would be 50, the lead would automatically be sent to the CRM.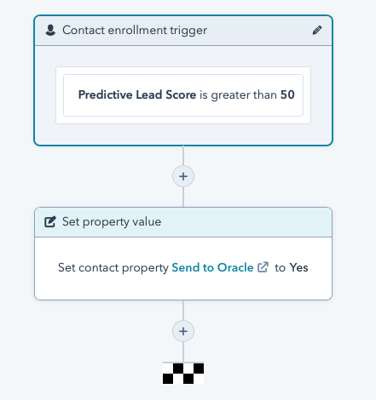 And with the solution implemented, the marketing team was also able to indicate specifically that the lead had to be sent. With a simple property on the contact, the team can send the lead to Oracle.
The whole thing allows for automated actions to send Contacts that meet qualifying criteria, while keeping some flexibility when needed.

2) Ease the upsell process
The solution that we've put into place also takes into account what happens after the sales cycle.
Once the leads are sent to Oracle, you can start the sales process as such. In this process, you convert the leads into opportunities. When you finally sell a project or product to an opportunity, there will be a time when you will want to upsell. Instead of letting the sales reps do a one-to-one job, it is also efficient to set marketing campaigns into place.
That's what we enabled for this Finnish manufacturer of nano-technology equipment. The opportunities are sent back to HubSpot as deals, so that the marketing team has the info needed to set up the campaigns. Any change done on those opportunities will be synced back to HubSpot.
This means that you can target all of your customers with marketing campaigns in HubSpot in a timely, automated and coherent way.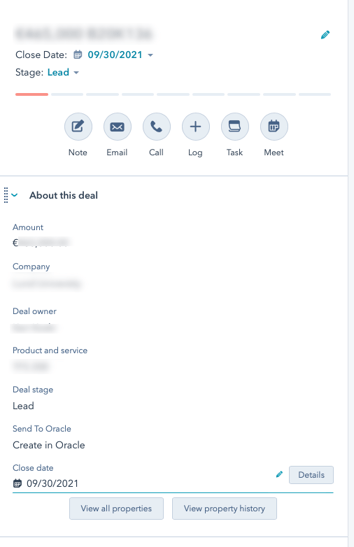 3) While interacting with a customer, keep a view on their journey

The fact that opportunities are handled in Oracle doesn't mean that your sales representatives should work in silos.
First, as explained before, they get information that comes from HubSpot when creating the leads and opportunities. But it doesn't stop there. On top of this, it is possible to put a screen in your CRM that would display the HubSpot timeline.
So, before contacting a potential client, they can have a look at the mails the client received, the interactions they had with your website and with your marketing content and actions.
That makes it easier to have a truly tailored interaction!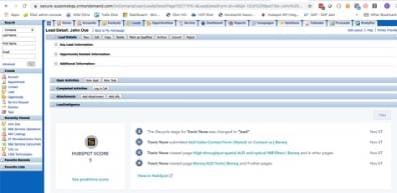 4) Accurately measure your HubSpot Marketing efforts

If you followed all the previous explanation, you realize that the customer journey :
is first handled in HubSpot with the marketing activities.
When a lead is considered Sales qualified, it is sent to Oracle.
The sales process happens there,
and when an opportunity is created, it is sent back to HubSpot.
Those are the very ingredients of a true closed-loop reporting. You can see the impact of all of the actions and access all of the relevant data to be able to report on them. For example, you have a clear view on which marketing efforts have led to opportunities. Thanks to the HubSpot reports, you can accurately calculate the ROI on your projects.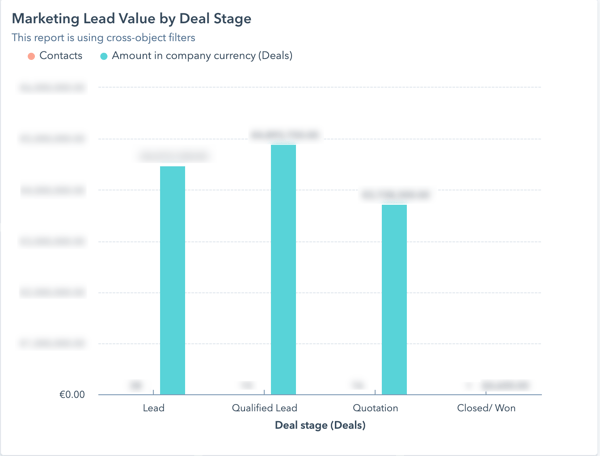 If you are in a similar situation and want to know more about our solution, we prepared a solution brief to describe it.