6 frequently asked questions about HubSpot Sales Hub [+ Webinar]
Our prospects frequently ask us several questions about HubSpot Sales Hub during the first calls. For instance, "What is the best way to capture visit reports in HubSpot?", "Does HubSpot integrate with my email and calendar?", "Should I integrate HubSpot with my ERP back office system"? Keep reading if you want to know the answers to those questions!

1) What is the best way to capture visit reports in HubSpot?
Many customers saw the capture of meeting notes as a big challenge. Why? Because the notes are directly added to the meeting which would be sent to all attendees. It's not the purpose of that, so they had to use the Notes tool or Log a second meeting which was causing problems in terms of reporting.
But we have some good news! In the past weeks, HubSpot announced a new feature: Team Notes section. This means that you can easily capture your visit notes directly on the meeting. What we would advice here, is to use a snippet, which is a pre-defined block of text that gives you structure in your notes.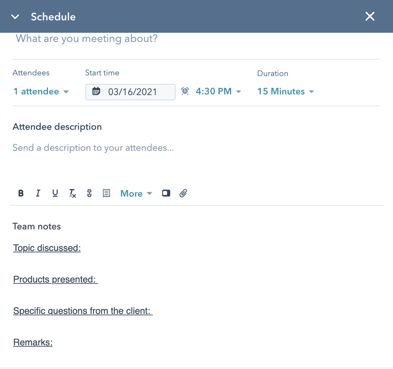 If you add something in the 'Attendee description', it will be send to all attendees. But now you can add notes in the 'Team notes' that only your team will see. This information is also directly visible on the meeting itself.
Watch our Webinar: FAQ HubSpot Sales Hub
2) What is the best way to perform a guided/scripted sales call?
You're basically looking for homogeneity in your calls for sales purposes. It depends on the guidance/freedom you want to give to your team, you have access to 2 different tools in HubSpot: playbooks and snippets. Playbooks give a high level of guidance which is useful for juniors and for technical conversations. Snippets on the other hand, are less guided. That's why it's more interesting for experienced sales people.
Playbooks
At the beginning, the purpose of a playbook was to get all the information need about the customer. Now you want them to follow a questionnaire where you will be able to answer via free text or predefined answers. What is very interesting in playbooks is that you can automatically capture some properties. There's a limitation in HubSpot, you can only use it if you have an Enterprise plan.
Snippets
If you want something that is less guided, you can use the snippets. It gives you a lot of freedom (e.g. skip/add a section), and it's available in all HubSpot plans.
3) Does HubSpot integrate with my email and calendar?
Email
HubSpot has three native e-mail integrations: Office 365, Gmail and Exchange (still in beta). Within the native integrations, you have some functionalities:
Log and track emails
Direct access to Sequences, Templates, Documents and Meeting links
Send later option
Side panel with contact information
If you're using another email service provider, you may have some restrictions. You'll need to use the IMAP integration that allows you to log emails, to have a send later option and to have access to sequences, documents and templates. You're not able to track emails or to see the side panel with contact information.
There's also the specific case of Apple Mail. If you want to log your emails, you'll need to do it manually through the bcc address: [HUBID]@bcc.hubspot.com and forward address [HUBID]@forward.hubspot.com
Calendar
You can also integrate your calendar with a separate add-on. What does this add-on allow? It allows to have a bidirectional sync between your personal calendar and HubSpot. When you book a meeting in HubSpot, it will directly transfer to your personal calendar. If you book a meeting in your personal calendar with a contact that already exist in HubSpot, it will be logged automatically in HubSpot.
This add-on also gives you access to the meeting link. When a customer books a meeting via the meeting link, it will directly be booked in HubSpot and in your personal calendar at the same time.
4) Should I integrate HubSpot with my backoffice system (ERP system)?
Our advice is to only integrate the essential data, because the more you integrate, the more complex it is. The typical objects we usually integrate with ERP systems are companies, contacts, sales transactions, tickets and other objects depending on your business.
Different types of synchronizations
Companies
If you're looking for an ERP integration with HubSpot, it's the starting point to integrate companies. A lot of our customers ask for a bidirectional sync, but we would always do a unidirectional sync between your ERP and HubSpot. Why? Because it's more secure in terms of data governance (you want to avoid having duplicates in your ERP). At the creation of companies in your ERP, you'll need manual input for logistic, financial info, etc.
Contacts
If you're interested to integrate contacts, you have to think about it first, because it's not always useful. The contact data are often very different between your ERP (delivery, invoicing contacts) and CRM (commercial contacts). Sometimes it's relevant to integrate contacts. For example: when the quote needs to be created in the back office.
Sales transactions
There are 2 reasons why you want to integrate sales transactions. The first one is when you want to make marketing actions based on sales data. For example, if you're a furniture company and you want to contact all the customers that purchased outdoor furniture last year, then you'll need the sales data to target those customers.
It's the same if you want to get the Return on Investment (ROI) of your marketing actions. If you want to link the campaign data to sales data to see which marketing actions brought business.
But what kind of sales data do you need? Because integrating sales orders can be complex. Sometimes just sending KPI's can be enough. For example, some customers want all invoices to be send through the CRM, but actually when a sales rep goes to his clients, he mainly need the overview balance, not all invoices.
Tickets
If the tickets are managed by the back office in the ERP, then the sales need to be aware of open tickets when calling or visiting customers.
5) Should I use HubSpot quotes functionality or an external add-on?
HubSpot has improved their quotation system a lot. We believe it will still be improved in the coming months. At the moment, you have these advantages when using HubSpot quotation system: all buyer's information is pre-filled, using the product library information, basic customization available, approval system and electronic signature. There's also a new feature: you can have customizable templates, but then you would need the help of a developer.
But if need for a more advanced feature, there are 2 options. The first one is more customization without coding. This means you will use an external add-on like Pandadoc. They have a lot of advanced features such as pricing table. But if you need very specific information that is located in your ERP like automated discounts, shipping costs, etc. we would advice to keep creating quotes in the back office ERP system. Then you'll be able to sent it as an attachment or document in HubSpot. In this case, you can see when your customers opened the document and how much time they spend on it.
6) Is it recommended to use HubSpot's reporting tool or an external reporting tool?
HubSpot has improved in this area. You have a lot of options in the library of reports (more than 160 pre-filled reports). You can also create your own custom report. With al these reports, you have filters option and drill-down options.
In some cases, a BI system can be useful.
Deep slice and dice reporting and deep cross-objects reporting
Report on data coming from multiple systems
But let's keep an eye on the improvements of HubSpot in the coming months!
On 11 March 2021, we organized a webinar around this topic. During this webinar, our CRM Consultant Nadège shows you how you can use a playbook, snippets, and gives you other relevant information about the FAQ's.