[Webinar] 6 frequently asked questions about HubSpot Marketing Hub
As a marketeer, you face a lot of marketing tools using HubSpot Marketing Hub. But the choices you make can have an impact on the efficiency of your inbound marketing strategy. That's why it's very important to think about which marketing tools you're going to use and how you're going to use those. We'll dive deeper into the most frequently asked questions about Marketing Hub, so that you know what the best practices are.
FAQ HubSpot Marketing Hub
What is the added value of linking HubSpot to our website?
In general, we frequently receive questions from customers and prospects, why they should use HubSpot CTAs, forms and landing pages on their external website? The answer is very simple. You get a lot of advantages when you use these tools on your external website.
HubSpot CTAs
You can see all the analytics data and performance of your HubSpot CTAs. So, you can easily see how many people have seen or clicked on your CTA. You can create smart CTAs, which means that a visitor will see a different CTA based on the visitor's data that you have in HubSpot. You're also able to do A/B testing which give you important information: which CTA is performing the best?
Forms
In HubSpot, the biggest advantage of HubSpot forms is that you have all information in HubSpot when someone fills in your form on your external website.
Landing pages
HubSpot Landing pages look like an extension of your website, so these pages will have the same look and feel as the rest of your website. You can also add other HubSpot tools to your landing pages, like CTAs, forms etc.
Maybe not to forget, what is very cool about HubSpot, is that you have a lot of information on the timeline event of a contact. You can use this information to enroll contacts in workflows and lists which will help you to segment your contacts.
We only discuss HubSpot CTAs, forms and landing pages, but off course you can also add other HubSpot tools to your external website: live chat/chat bot, blog, etc. But we don't receive regularly questions about these tools.
Replay our FAQ Marketing Hub Webinar
Should I replace all my forms with HubSpot forms?
In general, we advise to our customers to use HubSpot, because you have a lot of benefits. But of course, we have seen some exceptions with our clients that are not using the HubSpot forms.
Exception 1: Complex forms
We had one customer that had complex forms on their external website. Those forms look like a survey with difficult questions that you cannot answer in a couple of seconds. Another important feature on these forms was that you could come back another day to fill in your form where you have left. This is currently not possible in HubSpot. That's why we advised to our client to use Formstack, because of the easy integration between HubSpot and Formstack. To conclude, when a customer has a specific request for their forms that do not exist in HubSpot forms, we would always advise to use a tool that integrates with HubSpot.
Exception 2: High volume of existing forms
Another customer had thousands of forms on their external website. On every product page, you could download different content. To download this, you filled in a form. That's why they had so many forms on their website. How are we going to migrate all those forms into HubSpot? It would have taken a lot of time to create all those forms in HubSpot. That's why we recommended to our customer to use Non-HubSpot forms, which is a very nice tool, because all form submissions came into one form in HubSpot. If you want to use Non-HubSpot forms, you need to be aware of the limitations. Your forms need to have some technical specifications before it gets recognized by HubSpot.
In which cases is it best to use HubSpot ads?
We know that a lot of performance marketeers are not using HubSpot ads. Instead they're using the ad platforms (Facebook, LinkedIn, Google) itself to create ads or campaigns. But HubSpot can be a good supplement for you ads strategy.
Why? Because you can use HubSpot ads in combination with your HubSpot CRM and other HubSpot tools.
In HubSpot, you can create audiences and lookalike audiences, which means that you're really using the contacts that you have in your HubSpot CRM. What is also very interesting, is that you can select these audiences in your ad platform.
You also have more information in HubSpot than on the ad platform. On the timeline event in HubSpot, you're able to see how someone is interacting with your website (e.g. pages visited, forms filled in, etc.). You can use this information to enroll contacts in lists and workflows to segment your contacts.
Because you have connected your ad platforms with HubSpot, you have all the analytics data in one platform; HubSpot. You don't need to switch between different platforms to see the results of your campaigns. Besides that, you can also see how many contacts/deals you have created and what the ROI is of your campaigns.

Of course, there are still some cases when we not really advise to use HubSpot ads. If you want to create a new campaign or optimize your campaign, it's better to do this in your ad platform, than in HubSpot ads, because you have more options in your ad platform.
How can a marketing manager know which touch points are bringing the most value?
Buyers can engage in a multitude of ways with your brand before ever becoming a contact. This is one of the toughest challenges that we see with marketeers: knowing which marketing efforts deserve the most credits.
To solve this problem, you can create multi-touch attribution reports in HubSpot. HubSpot supports 3 types of them: revenue, contact create and deal creation (public beta). Revenue and deal creation are only available for Marketing Hub Enterprise users. Contact create is available for Marketing/CMS Hub Pro/Enterprise.
Watch the Webinar to see how you can create a multi-touch attribution report in HubSpot
What is the best way to follow up offline and online marketing events?
We usually advise to our customers to follow a 2-step approach: create an event in HubSpot and get participants in HubSpot.
Step 1: Create an event
It's currently not possible to create an event in the HubSpot UI, that why we still recommended to do a workaround, so to create a custom property in HubSpot. Best is that this property is a multiple check box field. In this way, you're able to add multiple events in one place.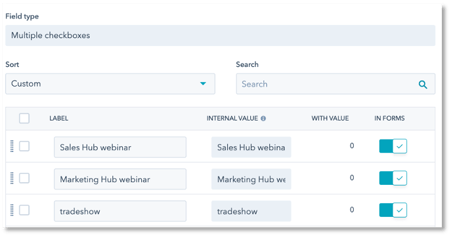 What you also can do is to use the Marketing Events (still in beta) if you're using Zoom, Eventbrite or GoToWebinar. These tools easily integrate with HubSpot. But you have some limited capabilities. We know that HubSpot is still working on improvements for the Marketing Events.
Step 2: Get participants in HubSpot
If you're using the custom property, there are two ways to get your participants in HubSpot. You can add your custom property to your form. Best is that you mark that property as a hidden field, so your contacts can not see this. You can also unable the cookie tracking on your forms, so that you don't have any duplicates in HubSpot. The second option is to import your contacts from an external tool into HubSpot. You still need to update your custom property. In this way, you can easily see which contacts have attended your events.

When you're using the native integrations with HubSpot (Zoom, Eventbrite, GoToWebinar), your contacts are immediately in HubSpot.
What is the best way to manage subscription types?
We know that a lot of companies are struggling with how they should manage their subscription types. That's why we have some tips to give to you.
Be clear in the definition of each type
You really to know what you're going to communicate to your contacts. There should also be no overlap between your subscription types. If this is the case, it's better to migrate them into 1 subscription types, because you're communicating the same thing with your different subscription types.

Not too long list
Most companies have 5 subscription types in total. Why should you not have a long list? Because your contacts don't like to see such a long list of subscription types. They also don't have any idea to which subscription type they are opted in or opted out.


Be consistent when you're creating new marketing emails and forms
When you create a new marketing email or form, you need to be aware which subscription type you're going to use. E.g. when you create a new form, 'Sales One to One' is by default selected as a subscription type, but maybe you want another subscription type. So really make sure that you're checking your subscription types before you publish a new form or send out a new marketing email.

Like I said previously, many companies don't know how to manage their subscription types or are doing it in the wrong way. We have an interesting use case to tell you, but therefore you need to watch the webinar!