How to build a website with HubSpot ?
In today's digital era, it's important for every business to have a presence online, especially when we know that 81% of shoppers researching online before even considering making a purchase!
Today's buyers want to educate themselves on your business and the products/services and/or solutions it provides. They will read blogs and articles relating to your service offerings, check out your case studies, browse your website, download content from your website and much more to make an informed purchase decision.
All these facts make your website is your most important asset. To attract website visitors and convert them into leads, it needs to be equipped with the right tools...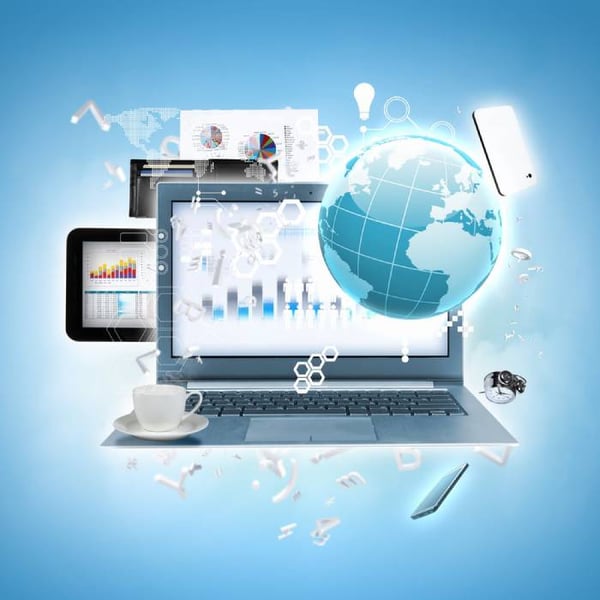 Why use HubSpot to build your website?
To drive lead generation and understand the paths to conversion, it's become essential for the website to be easy to edit and connected to the rest of the business' marketing and sales activity. But few platforms offers this. Therefore, many businesses find themselves having to acquire different tools to manage separate aspects of their website.
Unlike most platforms, the HubSpot CMS is an all-in-one solution. The HubSpot CMS is an integrated platform, that wan be combined with HubSpot's CRM, which will provide complete control and visibility over marketing and sales activities.
How to use HubSpot website builder?
If you're not using HubSpot already, you can access a free trial of HubSpot CMS. If you're already using HubSpot's CRM, it probably makes the most sense to build a website within HubSpot to integrate all your sales and marketing needs in one place.
HubSpot's Website builder includes all the tools you need to build a website. It's powerful, flexible and easy to use. Even without experience building a website can use the tool to create a website... and if you're more experienced, it has different functions that enable more customised design.
You'll find the following tools, in HubSpot's design manager:
Finder
The finder allows you to manage all of your folders, templates, modules and coded files in one place. It's like a search engine for all of your website documents.
You can also create new files or folders, or take any action on the file or document currently selected , such as delete, clone or rename the asset, as well as show the revision history of a particular asset.
Layout Editor
The layout editor features a drag and drop interface, allowing for the addition of new modules anywhere on the page. Modules can be modified easily using the inspector on the right-hand side of the page or by right-clicking on the module in question.
Modules dragged and dropped onto pages can be adjusted as necessary and as all HubSpot templates are responsive, they will automatically adjust to different screen sizes.
Inspector
The inspector allows you to add and edit components in a template or module. Editing capabilities are dependent on the task being performed. For example, if you are editing a component, the inspector will show all the features and options of that component. If you are editing a module, the inspector will allow you to edit and add fields to that module.
Code Editor
HubSpot's code editor is a powerful integrated development environment (IDE) that allows you to code cascading style sheet (CSS) files, JavaScript files and HTML templates. Any changes made to your code or style sheets will be reflected in real time so you can see how your changes effect your pages or render on certain devices.
Module Editor
If you want to customise your website further, you'll do it in HubSpot's Module Editor.
Modules, in HubSpot, are reusable custom-coded components comprised of HTML and HubL fields, CSS, and JavaScript, they can be added to a template and/or customised in the page editor without any code.
All of those tools give you a good overview of what is in your hands to start building your website on HubSpot CMS. If you want to know more about this, check out our things to think about when migrating a website on HubSpot. There are topics that might be interesting as well.
Download our free one-pager to know which Hub CMS services we provide!