---
INTRODUCTION
Facebook is a platform widely used, so there is a good chance that a lot of potential customers are using it on a daily basis. But how exactly can you do that? That's what we'll discover in this blog post.
---

How to attract customers via Facebook
In 2019, following the report of We are social and Hootsuite, the number of people using Facebook is of 2, 121 millions. This represents more than the population of Europe and Africa in 2016.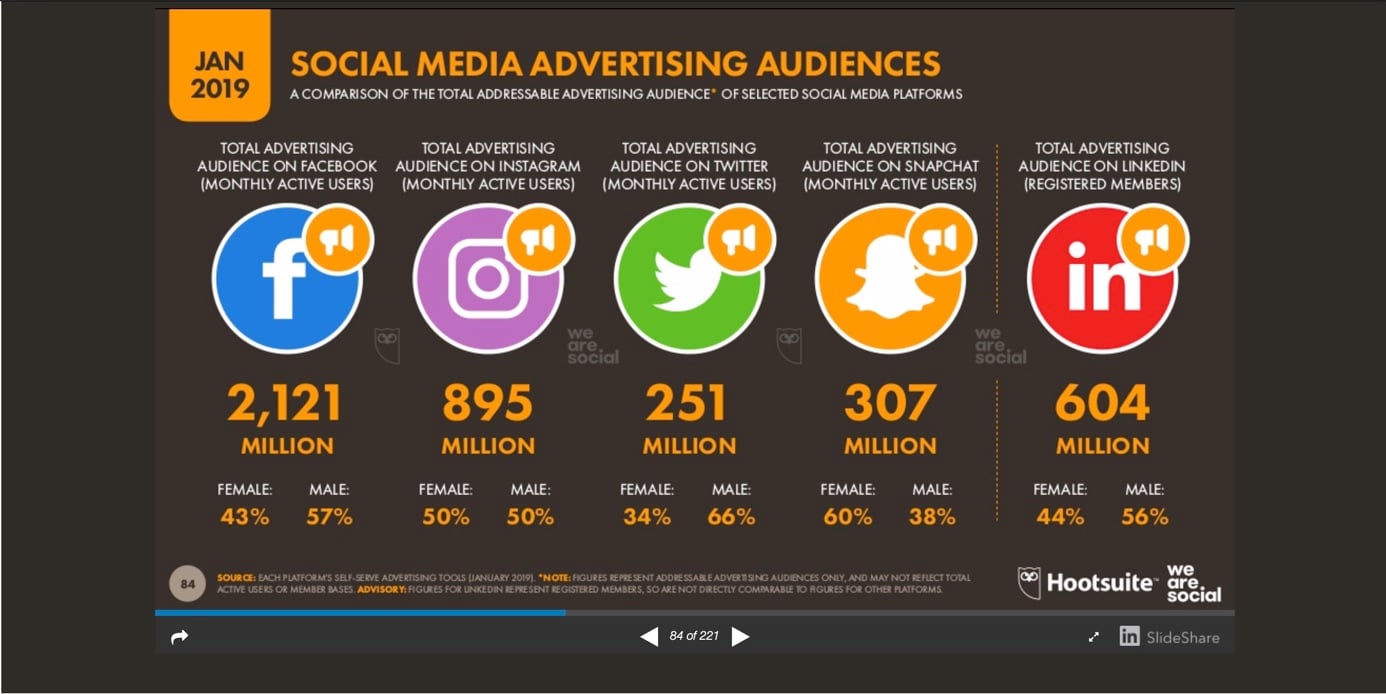 If you keep in mind those numbers, it becomes obvious that there is something to do with the platform. But the question is what exactly?
Being successful on Facebook is not that easy. For sure, you're not the only one trying to get the attention here! So, in order to get tangible results, you need to apply a structured approach:
1. Prioritize your business objectives
Being merely present on Facebook without an end goal in mind might not be the best strategy. So define in advance what you want to achieve. This guide most appropriate for companies who want to generate leads and online sales via Facebook.
The things that you must take into account when defining your objectives:
Who do you want to touch, which persona. The demographic informations will help you define your audiences.
How does your persona use facebook: is it to search information, join groups, talk with its friends...
What content would be interesting for the persona, at what point of its life
What is the action that you want to make him take?
2. Build your Facebook lead generation audience
To grow your Facebook fan base, you need to make your page and posts as discoverable as possible. Consider these 5 ways to get notices
Make sure your page is filled out with searchable information
Invite existing contacts to like your page
Incorporate Facebook in your communication channels
Create value by sharing interesting content
Consider Facebook advertising
3. Develop and focus on your overarching content & lead gen strategies
First focus on the content your potential customers will like and appreciate, regardless of the channel used. Then use Facebook as a mean to draw the attention to this content, eg by using eye-catching images.
Look at the stats to check which one of your strategies is the most efficient. With the time, you will be able to determine which content or formulation to use across your publications.
4. Champion content creation
To attract customers, you can't only post sales-driven content. Focus on both direct and indirect lead generation. Ensure there is enough friendly and easy to consume content, not linked to any commercial call-to-action. This will ensure more fun, more engagement, more traffic,... and eventually more leads.
5. Maximize customer acquisition with advertising
Facebook is evolving to become more of a paid marketing platform than an organic one. A brand's ability to reach their fan base organically has diminished as more brands and content compete to appear in users' News Feeds.
The reality is that Facebook is a business just like yours, and the company encourages marketers to look at their fan bases as a way to make paid advertising more effective rather than using it as a free broadcast channel. Additionally, Facebook says you should assume organic reach will eventually arrive at zero.
---

CONCLUSION:
Focus on helping people. Whether B2B or B2C, business is still P2P – person to
person.
Create content that makes your target audience's job easier. Then, create interesting
posts to promote that content on Facebook.
REMEMBER TO: Post a balance of direct and indirect lead gen content
---
Want to learn more about lead generation? Read our ebook!