[Infographic] In 2021, I'll start with remote selling
Our next resolution for 2021 focuses on remote selling. Due to the current pandemic, many companies are going remotely. In this blog post, we dive deeper into remote selling, importance of remote selling and benefits of remote selling. Keep reading if you want to start with remote selling or want to improve your remote selling.
The current pandemic forced a lot of companies to move towards virtual selling. The way companies sell now looks very different than how it used to be. This corona situation will come to an end, but we're convinced that the sales model will look different after COVID-19. It's important that you consider starting with remote selling.
What is remote selling?
Remote selling, or virtual selling, is a complex buying cycle where the majority of your conversations with a client or prospect are virtual. Most of the communication happens via videoconferencing or phone.
Countries like India and China are leading the shift to remote selling, but Spain and UK aren't far behind.
The importance of remote selling
This shift to remote selling could be permanently. Some companies in Belgium like Proximus, but also in the U.S. start cutting space. They're moving to smaller offices, where the office is more like a 'meeting place'. Therefore you could say the office will not longer be the same.
It's obvious we're in a shift to remote selling. That's why it's important your company needs to be able to train and coach your salespeople.
Watch our free webinar: How to manage your sales team going remotely
Besides this shift to remote selling, there was already a digital transformation going on in many companies. Due to the pandemic, small and mid-sized companies (SME) are accelerating their digital transformation.
When you compare remote selling with digital transformation, there's one thing that stands out: buyer preference. Buyers are more into digital, they don't need feel the need to have face-to-face communication. The telecommunications companies are jumping into this: provide us with 4G or even 5G networks to make it easier for us to go digital.
Download our tips for efficient remote selling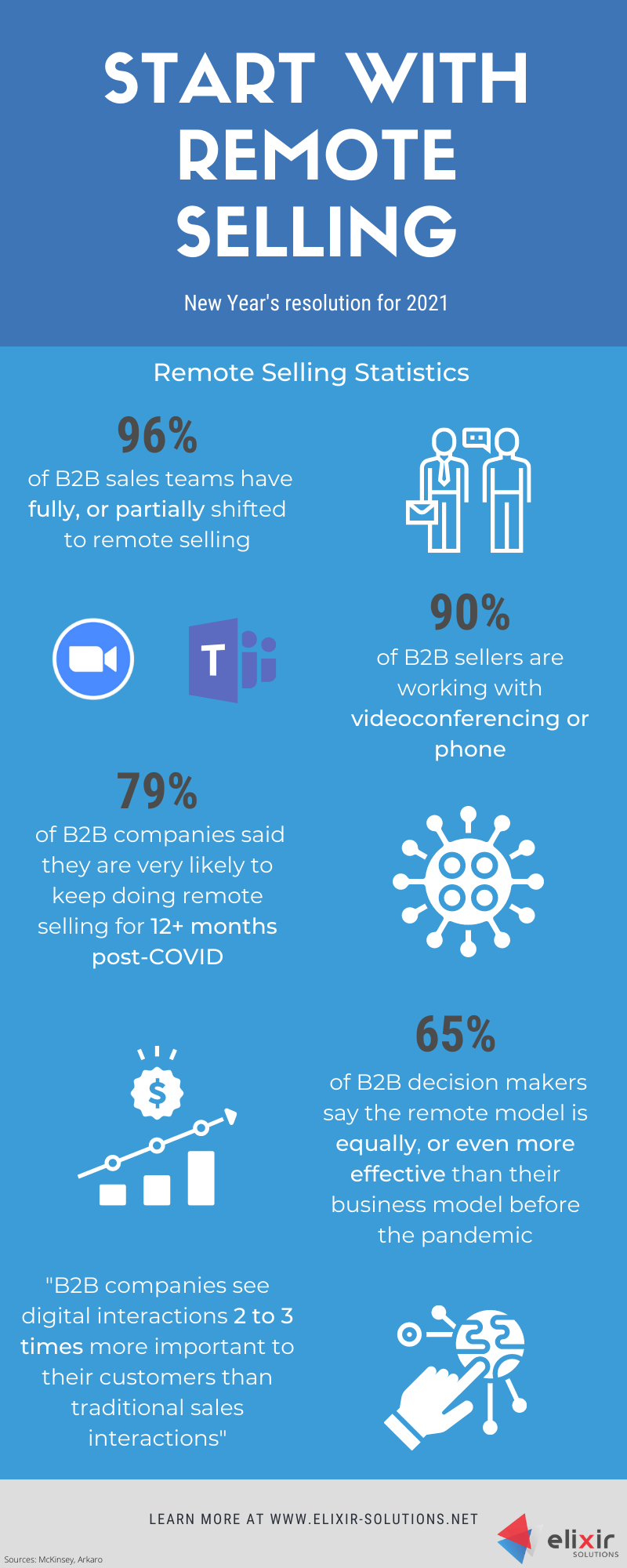 Benefits of remote selling
Reduced costs associated with in-person meetings
Fewer hours spent in public transport or in the car; your sales reps have more time to conduct virtual meetings. Your sales reps become more productive and efficient.
Reductions in the amount of office space
Possibility to include key leaders in a virtual meetings; this can lead to quicker decision-making and a more efficient process overall
You can still offer a personalized experience; creative introduction of your team, a deeper look into your products and/or services or a virtual tour of your facility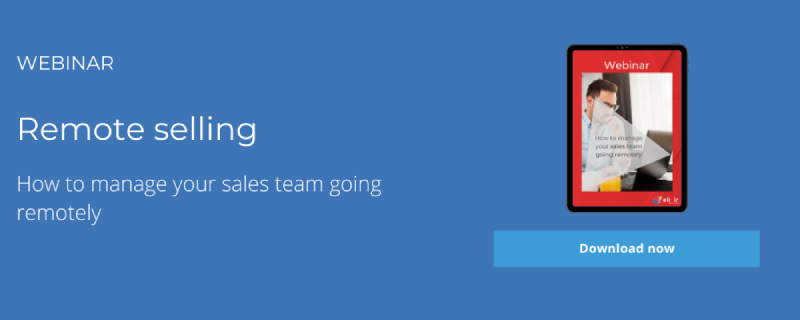 Sources:
Arkaro. (2020). Remote selling sharing best practices to help you deliver.
McKinsey. (2020). The B2B digital inflection point: how sales have changed during covid-19