Recap of #INBOUND2020: Insights about the newest features on HubSpot
On 22 and 23 September 2020, HubSpot launched an online INBOUND event. Due to COVID-19, this year was a very special one. Many companies are now using Zoom and Slack much more than before COVID-19. This is the new normal and businesses need to thrive in the new normal. Therefore Brian Halligan (CEO of HubSpot) announced new exciting features on HubSpot to unify your marketing, sales and service department even more. We will discuss the ones we are most excited about below and give useful insights about these features.
Sales Hub

The new Sales Hub Enterprise comes now with an enterprise-grade CRM. This CRM is easy and powerful.
Custom-objects
HubSpot brings in the most requested product update: custom-objects (enterprise product). Now you can easily store any data in your HubSpot including SaaS subscriptions, shipments and much more. These custom objects work like the standard objects (e.g. contacts and companies objects) in HubSpot. This means you can easily create and manage your objects, set up workflows and run reports on these custom objects.
But how do you start using custom objects? It requires use of the HubSpot API. Via HubSpot API you can define custom objects and have access to API documentation. Once you've defined your custom object, you can create new custom object records, view your custom object records in a table and filter the records based on their property values.
Advanced sequences
In Sales Hub Professional you can now create new sequences with different steps (e.g. auto email, manual email, call, to-do). Sequences are good to use because it spends less time on manual tasks. You also have the ability to send LinkedIn InMail and connection requests from HubSpot. All these new features in sequences makes it easier to tee up emails and follow up tasks than ever before.
Sales Analytics
For salespersons it's important to see their rep performance and deal pipeline. But often they struggle with bringing all the spreadsheets together. Now Sales Hub Entreprise brings all the sales data together.
First, the new Sales Analytics tools give you useful insights into the condition of your sales pipeline. This means you can coach your team and improve results over time. Now it's possible to access over 20 powerful reports. For example, deal funnel and deal pipeline waterfall. Deal funnel gives you an overview of the efficiency of your sales funnel. Deal pipeline waterfall helps you understand the why behind changes to your pipeline. For example, you can easily see the sum total of specific types of changes to deals in a given time period, but you can even go deeper. It's possible to see a list of deals that had their amount decreased. So, if your salespersons want to know more about why deals are changing. They can easily access a history report to know all the details.
Second, if you're interested in coaching and improving your sales team, HubSpot has now a report called 'Coach Reps & Teams'. Your managers have an overview of the individual performances (e.g. call outcomes, deals created, meeting outcomes, tasks completed and much more), which helps to coach their sales team.
Marketing Hub
You already know that customer behavior is changing, channels are expanding and technology is getting more sophisticated. But for you as a company, it's your goal to grow your business. Therefore you need some powerful tools to thrive in the changing and competitive business world. HubSpot delivers some ready-to-ease marketing automation tools to make this happen for you.
Maybe you experienced some problems with 'free unlimited contacts'. When you use CRM together with Marketing Hub, they are charged for all contacts in HubSpot CRM. Now HubSpot has a new pricing model for Marketing Hub. You only need to pay for the contacts you want to market to via emails or ads. For free you can store up to one million contacts you don't actively market to (e.g. unsubscribers and bounded contacts).
Advanced personalization tools
Personalization is the key to success in your marketing campaign. Therefore, HubSpot launched some advanced personalization tools to be able to personalize at a deeper level.
With programmable email, you're now able to deliver highly customized and relevant email content to your customers. Your customers get relevant information based on a combination of custom criteria (e.g. budget, preferred location, number of bathrooms), while you have to build one email template. This brings your email marketing to a whole new level.
Another update from HubSpot are CRM-powered ads. This makes your lead generation through ads more targeted. HubSpot also enabled offline conversion tracking directly from HubSpot with ads optimization events. This means your ads not only can be targeted at the right users, but also optimized towards the right conversions. Maybe you know that Google only knows when someone clicked on an ad, but not what happened afterwards. Google will continue to optimize getting users click on ads. With ads optimization events, every time when a contact's life cycle changes a signal is sent to Google, which means Google can optimize their algorithm even more. For you as a company, this means that Google can start to optimize the most valuable leads to your business.
New report builder
If your marketeers are in need of more advanced reports, HubSpot has now a new custom report builder. Your contact, companies, deal data alongside your marketing e-mail, landing page and blog engagement data are accessible within the custom report builder. As a marketeer, this gives you useful answers on all your questions. For example, what are our most valuable emails?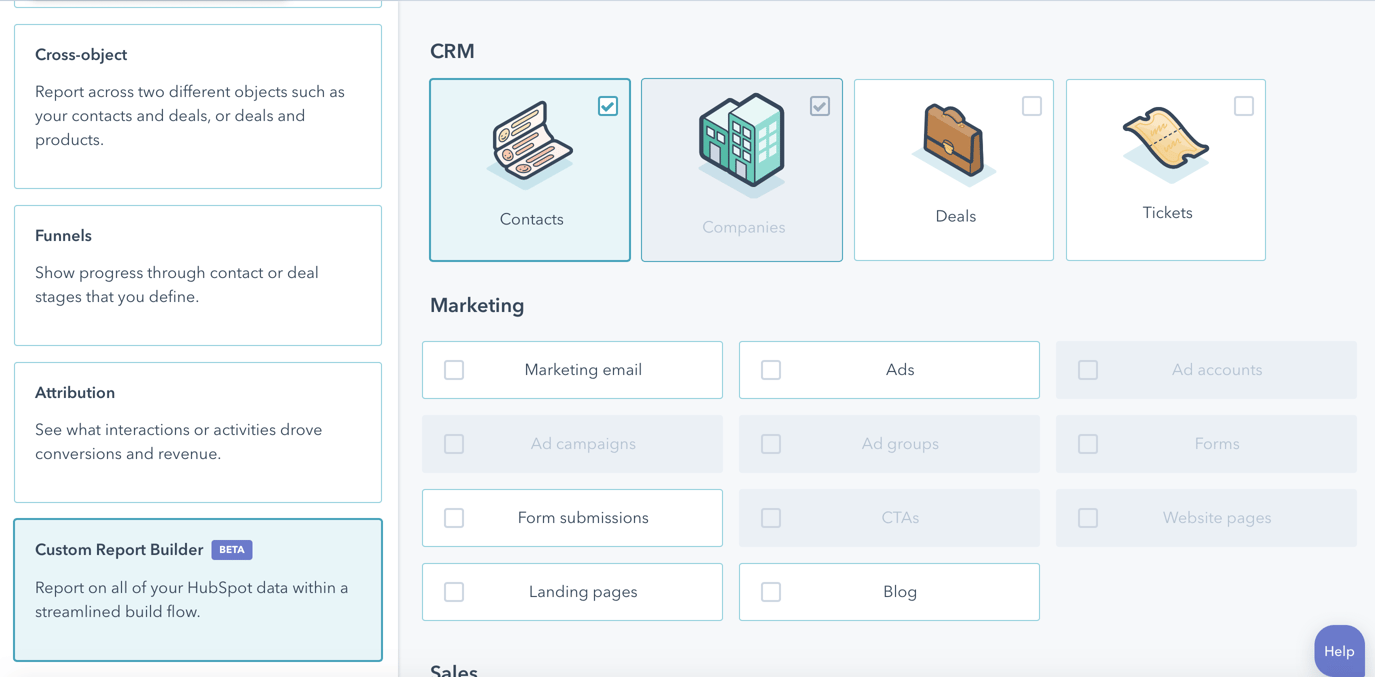 A dashboard can give you an overview of your marketing performance. This could give you insights into which actions you need to take to move forward. Before HubSpot's announcement, you had to scroll down to have an overview of your marketing metrics. Now with HubSpot's flexible dashboards, you have customizable dashboards that are easy to build and share with your team. Specifically, you have the possibility to make 20 reports that will put your most important metrics in one overview. These dashboards and reports will help your marketing team to grow better.
Custom objects
Custom objects are not only useful for salespersons and CRM users, but also for marketeers. When you set up new custom objects you have the ability to capture more powerful data. This means you can execute highly targeted campaigns.
By using custom objects, you can run highly personalized upsell and cross sell campaigns by defining new customer segments to target based on parameters individual to their business. When you're able to target cohorts for campaigns, this means better ROI and a more tailored and engaging experience for your customers.
Service Hub
Logged-in visitor identification
If your company has a log-in feature on your website, you can now automatically identify visitors who are logged in when they chat with you. This gives you an opportunity to see a visitor's chat history and contact record. If you have more context, you can respond faster and deliver a more personalized customer experience.
Are you interested in a our recap of Inbound 2021? Click the button below to read about it.


Do you like this blogpost? Feel free to share this with your network.