RECAP OF #INBOUND23: INSIGHTS ABOUT THE NEWEST FEATURES ON HUBSPOT
HubSpot, a leader in inbound marketing and sales software, has once again raised the bar with a host of new features unveiled at INBOUND 23. In this article, we'll delve into the exciting updates across Marketing Hub, CMS Hub, Sales Hub, and Service Hub, highlighting the tools and functionalities that are set to transform the way you approach your marketing and sales strategies.
Discover the full details here!
TABLE OF CONTENTS
1. AI-Powered Blogposts Generator: with Semrush Data
2. AI Content Assistant: meta description
3. AI Content Assistant: Streamlining Content
4. Campaign Assistant: Landing page
1. Sales Hub: Prospecting Workspace
2. Prospecting Activities Report: Maximizing Sales Performance
3. AI Forecasting: Improving Sales Prediction
4. Forecast Across All Pipelines: Holistic Sales Management
1. Sequence Outcome Reporting: Tracking Sequence Effectiveness
2. Deal Funnel Report: Revamped Funnel Reporting
3. Elevating Your Sales Insights with Salesforce Activity Sync
MARKETING HUB + CMS HUB
1.
AI-Powered Blog Posts Generator:
with Semrush Data
For businesses in the marketing arena, the AI-Powered Content Idea Generator is a game-changer. HubSpot introduces a groundbreaking content idea generation tool, powered by ChatGPT and Semrush data. This tool is designed to combat writer's block and enhance your blogging efforts.
The benefits are clear: generate blog post topics, titles, Descriptions, and outlines effortlessly, and score them for SEO potential. By doing so, businesses can ensure that their content resonates with the audience while maximizing visibility on search engines.
*Available in Public Beta for all Free+ customers.
2.

AI Content Assistant:

One Click Title and Meta Description Generation
The AI Content Assistant, with its one-click title and meta description generation, revolutionizes content creation. For businesses, this means saving valuable time and resources. With AI analyzing your content and crafting SEO-friendly titles and descriptions, you can enhance your online presence, drive more traffic, and improve click-through rates. It's a powerful tool that empowers businesses to optimize their content effortlessly. (Seamlessly integrate this feature into website pages, landing pages, and blogs.)
*Available in Public Beta for all Free+ customers.
3.

AI Content Assistant:

Streamlining Content Creation Across the HubSpot Ecosystem
Content creators can now harness the power of AI within the HubSpot blog editor. Whether you need to brainstorm blog outlines, craft engaging paragraphs, generate fresh ideas, or refine conclusions, this feature has you covered. Editing existing text to rewrite, shorten, expand, or adjust tone has never been easier.
For content creators, this feature opens a world of possibilities. Here's how it can benefit your content strategy:
Efficiency: Save time by generating content ideas and outlines quickly.
Quality: Improve the quality of your content with AI-driven suggestions.
Versatility: Easily adapt and edit content to match your desired tone and style.
Consistency: Maintain consistency in your content, even when making edits.
Productivity: Boost productivity by eliminating writer's block and streamlining the writing process
4. Campaign Assistant: Landing Page Creation from Content Generation
Businesses can now create landing pages with ease using the Campaign Assistant. This tool streamlines the process from content creation to publication. With just one click, you can go from concept to a published landing page. This not only saves time but also allows businesses to respond quickly to market trends and opportunities.
*Available in Public Beta for all Free+ customers.
5. Campaign Assistant: LinkedIn and Facebook Text Ads Copy Generation
In the world of digital advertising, time is money. The Campaign Assistant's ability to generate LinkedIn and Facebook ad copy with a single click is a game-changer for businesses. Test multiple ad variants effortlessly, optimizing your campaigns for maximum impact.
Get three variants for testing your next campaign with just one click.
*Currently in Private Beta, soon to be available for all Free+ customers.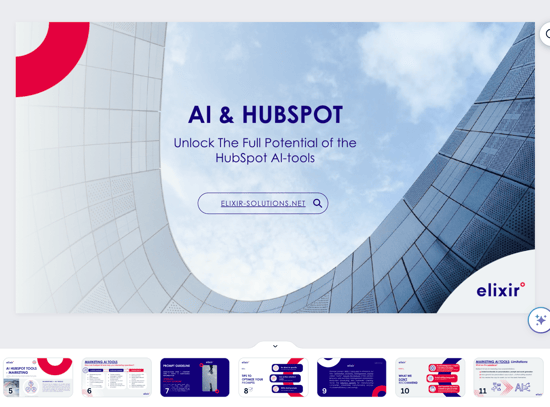 📚 Unlock the Guide: Looking to master the art of HubSpot AI? Don't forget to check out our free guide, where we share in-depth insights, expert tips, and solutions to common limitations we discovered during our testing. Grab your copy in the description below. ↓
SALES HUB


PROSPECTING
1. Sales Hub: Prospecting Workspace
Sales teams are in for a treat with the Prospecting Workspace. This dedicated workspace consolidates the entire prospecting experience within HubSpot. Businesses can organize their day efficiently, stay focused, and tie activities to their big-picture goals without app-switching hassles. The result? More productive and successful sales teams.
*Available in Public Beta for all Sales Hub Pro+ customers.
2. Prospecting Activities Report: Maximizing Sales Performance
HubSpot's Prospecting Activities Report is a powerful tool designed to provide in-depth insights into your sales team's activities. This out-of-the-box report offers sales managers a comprehensive view of their teams' and individual reps' performance. It goes beyond basic metrics and delves into the heart of prospecting activities, enabling you to assess the effectiveness of your sales processes, resource allocation, and team performance.
Unlocking Key Insights
The Prospecting Activities Report equips you with the data you need to make informed decisions and drive sales excellence. With this report, you can:
Evaluate Efficiency:

Gain a clear understanding of how efficiently your team is booking meetings, enrolling contacts in sequences, making calls, and completing tasks.

Identify Opportunities:

Pinpoint areas where your sales processes can be optimized for better results.

Measure Team Performance:

Assess the performance of individual team members, helping you identify top performers and areas where coaching may be needed.

Allocate Resources Effectively:

Make data-driven decisions about resource allocation, ensuring that your team's efforts are aligned with your business goals.
*Available for all Sales Hub Pro+ customers.
LEAD MANAGEMENT
Lead Management introduces a new leads "object" into HubSpot, embedded into the prospecting workspace. Businesses can now create leads from contacts with ease, eliminating the hassle of manual lead assignment. Streamlining this process ensures leads are efficiently distributed to the right team members, increasing efficiency and reducing lead leakage.
*Available in Public Beta for all Sales Hub Pro+ customers.
FORECASTING
HubSpot's Forecast Assistant is a game-changer for sales teams. It allows you to pressure test your team's forecast against HubSpot's AI-powered forecast, which leverages historical sales data to project future sales accurately.
Benefits for Sales Teams
Data-Driven Decisions: Ensure your forecasts are based on accurate historical data.
Confident Planning: Make informed decisions and allocate resources effectively.
Improved Predictions: Enhance the accuracy of your sales forecasts.
*Currently in Private Beta for all Sales Hub Pro+ customers.

4.

Forecast Across All Pipelines: Holistic Sales Management





Managing goals and forecasts across all pipelines is now a reality. This feature provides a holistic view of sales performance across different pipelines. Businesses can align strategies and resources effectively, ensuring consistent growth and success.

*Available for all Sales Hub Pro+ customers.
REPORTING
1. Sequence Outcome Reporting: Tracking Sequence Effectiveness
For Sales Hub Enterprise customers, Sequence Outcome Reporting brings new metrics into play. Track Deal Rate and Total Revenue influenced by your sequences. This data-driven approach empowers businesses to fine-tune their sales sequences for better results. It's a goldmine of insights for optimizing sales strategies.
Deal Rate

- the percentage of contacts enrolled in a sequence that resulted in a deal being created
Total Revenue

- the amount of revenue from closed won deals influenced by the sequence
*Available in Public Beta for all Sales Hub Enterprise customers.
2. Deal Funnel Report: Revamped Funnel Reporting
HubSpot has revamped funnel reporting with enhanced visualizations. Businesses can now analyze skips, conversions, and time in stage with Sankey and Funnel visualizations. This level of customization is available for Enterprise customers, allowing them to tailor their reporting to their specific needs.
*Available in Public Beta for all Sales Hub Pro+ customers.
3. Deal Journey Analytics: Understanding Customer Journeys
Customer Journey Analytics, exclusive to Sales Hub Enterprise, offers insights based on deals. Businesses can gain a deeper understanding of how customers navigate the sales process. This information can be used to optimize customer interactions and enhance the sales experience.
*Available for all Sales Hub Enterprise customers.
INTEGRATIONS
1. Essential Apps for Sales Hub: Unlocking Integration Potential
Businesses can now explore a collection of recommended integrations in HubSpot's App Marketplace. These integrations, including:
and more, enhance sales capabilities. Integrating these tools empowers businesses to streamline their sales processes, improve communication, and boost productivity.
2. Sync Data Between HubSpot and LinkedIn Sales Navigator
HubSpot's LinkedIn Sales Navigator integration is leveling up with seamless two-way data synchronization. This advancement unlocks automated insights and extensive reporting capabilities, surpassing the previous integration. Notably, HubSpot will be among the first sales software platforms to offer this integration.
3. Elevating Your Sales Insights with Salesforce Activity Sync
Effortless Data Integration
HubSpot's Salesforce Activity Sync is a game-changer for sales teams. It simplifies the process of syncing Salesforce activities into HubSpot, ensuring a seamless flow of data. With this integration, you can now effortlessly analyze calls, meetings, tasks, and more, all within the Sales Hub, regardless of where these activities originated.
Unlocking Valuable Insights
What sets Salesforce Activity Sync apart is its ability to provide profound insights into your sales operations. By consolidating data from Salesforce and HubSpot, you gain a holistic view of your customer interactions. These insights go beyond the surface-level metrics and allow you to:
Track Progress: Monitor the progress of your sales calls and meetings over time.
Identify Trends: Spot emerging trends in customer engagement and response rates.
Optimize Strategies: Fine-tune your sales strategies based on data-backed insights.
Enhance Customer Relationships: Identify areas for improving customer interactions and relationships.
Measure Efficiency: Gauge the efficiency of your sales activities and resource allocation.
*Salesforce Activity Sync is currently in Private Beta and will be available to all Pro+ customers.
Conclusion:

Embracing HubSpot's INBOUND 23 Innovations in Marketing and Sales
As we wrap up this journey through HubSpot's game-changing features unveiled at INBOUND 23, one thing is clear: innovation and empowerment are at the forefront. These updates empower marketers and sales teams to excel in their endeavors, make data-driven decisions, and deliver exceptional results. HubSpot continues to lead the way in revolutionizing how businesses approach marketing and sales in the ever-evolving digital landscape. Stay tuned for more exciting advancements on the horizon as HubSpot continues to shape the future of inbound marketing and sales.
At Elixir, we're not just another HubSpot partner — we're your strategic ally in the world of inbound marketing and sales. With a passion for driving growth, we've harnessed the power of HubSpot to help businesses like yours thrive in the digital landscape.
Unlock the Power of HubSpot: Let's Elevate Your Marketing and Sales Together!