[Short story] Elixir x Tendim
Tendim in short :
Industry: Healthcare
Type of project: HubSpot Sales & Marketing onboarding, Sage100 integration
Size of the organisation: 6-10
Head quarters: Kontich, Belgium
Website: www.tendim.be
ELixir x tendim
What were the issues faced by the customer, starting the project?
Customer data was spread over different systems, making it difficult to quickly find back important information
Generation and nurturing of high-quality leads had to be improved
Hard to measure results due to lack of data
How did we solve it?
Provide Tendim with great marketing software to manage different channels from one system
Provide the sales reps with a great CRM tool, also accessible from their mobile phone as they're often on the road
Centralizing data from various sources into HubSpot:

Interactions of the sales reps with their leads and customers
Engagement of leads with online marketing initiatives and website
Customers and orders from Tendim's existing webshop
Customers, quotes and orders from Tendim's existing ERP (Sage100)


What was the result?
More information and faster access for the sales team, making it easier to identify and reach out to qualitative leads and customers

Tendim to quickly see how they're doing and what needs to be improved, by having their results visualized in a central dashboard



what tendim says about us:
"

Smooth HubSpot implementation
Tendim is a small company and we have chosen Elixir as our HubSpot partner based on their review and a recommendation from a supplier. The implementation was very smooth and they adapted the process to the size of our company. " - Karel Voet, Tendim
More like this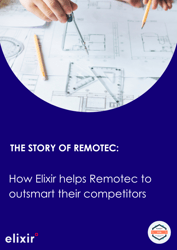 Download the customer case of Remotec and their integration with Sage 100