New AI-Powered Tools by HubSpot CRM: Elixir's take on Content Assistent, chatspot & campaign assistent
HubSpot's new AI tools are a game changer in the digital world. HubSpot has recently introduced a trio of powerful AI tools: Content Assistant, Campaign Assistant, and Chatspot. With the power of HubSpot AI to supercharge sales and marketing, these tools are designed to revolutionize your team's efficiency, productivity, streamline activities, and drive higher conversions. They provide valuable resources that aid in content creation and copywriting, saving you valuable time in the process. We took them for a spin, thoroughly tested and tried, and now we're eager to share our input with you.
In this comprehensive blog post, we'll explore the features, advantages, and limitations of integrating these cutting-edge AI tools into your day-to-day operations, revealing how they can provide your team with a significant advantage and leverage HubSpot to it's full advantage.
Table of contents
HUBSPOT AI TOOLS: WHAT CAN THEY DO FOR YOU?
1. CONTENT ASSISTANT: WRITE ENGAGING & OPTIMIZED CONTENT
2. CAMPAIGN ASSISTANT: STREAMLINING YOUR MARKETING CAMPAIGNS
3. CHATSPOT: TAKE IT ONE STEP FURTHER
THE ADVANTAGES: WHY SHOULD YOU USE HUBSPOT AI TOOLS?
2. AID IN CONTENT CREATION AND COPYWRITING
3. FREE AND AVAILABLE ACROSS HUBSPOT HUBS
4. NATIVE INTEGRATION AND SEAMLESS EXPERIENCE
THE DRAWBACKS: HUBSPOT AI TOOLS ARE NOT PERFECT
HUBSPOT AI tools: What can they do for you?
1. Content Assistant: Write Engaging & Optimized Content
Content Assistant empowers your team to generate content and copy using AI. One of the key challenges your teams face is lack of time to produce and deliver content, whether it is email campaigns or blog post for the marketing team, or prospecting, following up or cold outreach emails for sales. The Content Assistant AI solves this problem by accelerating and streamlining content creation by writing optimized and SEO friendly copy for marketing and sales emails, blog and social media posts, landing and website pages, knowledge base articles, title and meta descriptions. In addition, it enables your team to generate content ideas and outline, and provides editing features that enable you to rewrite, expand, summarize and change the tone of voice of the copy, ensuring a high-quality relevant output.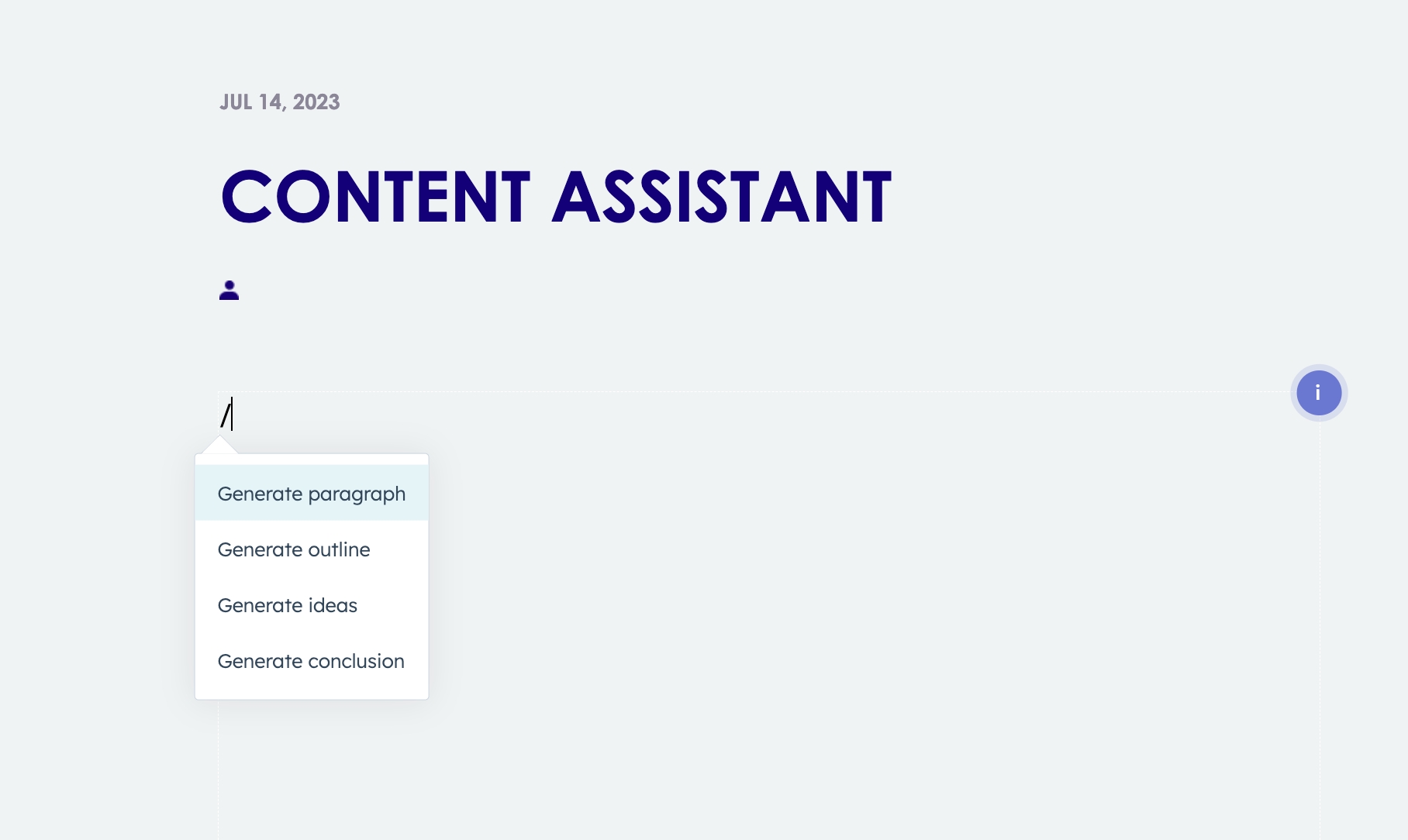 2. Campaign Assistant: Streamlining Your Marketing Campaigns
Marketing campaigns involve multiple assets and steps, and managing them efficiently can be a daunting and time consuming task. This is where HubSpot's Campaign Assistant comes in. The Campaign Assistant takes it a step further by streamlining your marketing campaigns. Instead of spending hours creating copy for emails, landing pages, and Google ads, by providing key details of your campaign, the Campaign Assistant AI generates the copy for these assets with just a few clicks. While the tool creates the copy, you will still need to create the accompanying assets, such as the landing page and visuals. This allows your marketing team to focus on other important aspects of your campaign, such as visuals and overall strategy. Therefore you can save time and boost productivity, ultimately driving better results for your marketing efforts.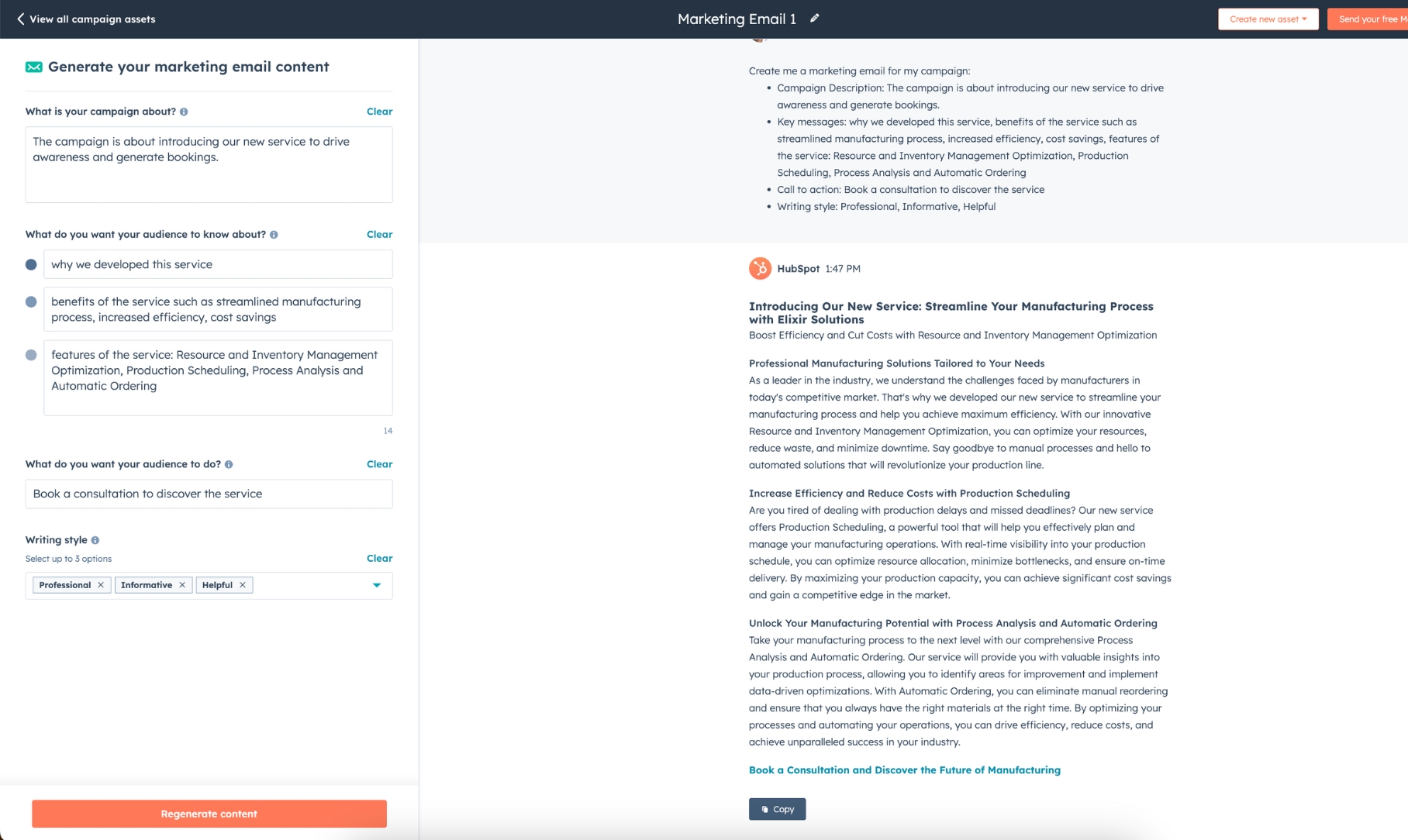 3. ChatSpot: Take it one step further
With Chatspot, you can take it one step further and boost your marketing efforts. With the HubSpot AI Tools by your side, you'll be able to make data-driven decisions and achieve better results in less time. Chatspot is an AI-powered chatbot app, similar to ChatGPT, that seamlessly integrates with HubSpot. It offers conversational bot capabilities and enables your team to get tasks done faster using chat-based commands, and delivers personalized results as it learns from interactions. Your teams can use ChatSpot for research - company, competitors and keywords research, prospecting, content writing and SEO. It enhances your team's efforts, enabling them to make data-driven decisions that improve business results.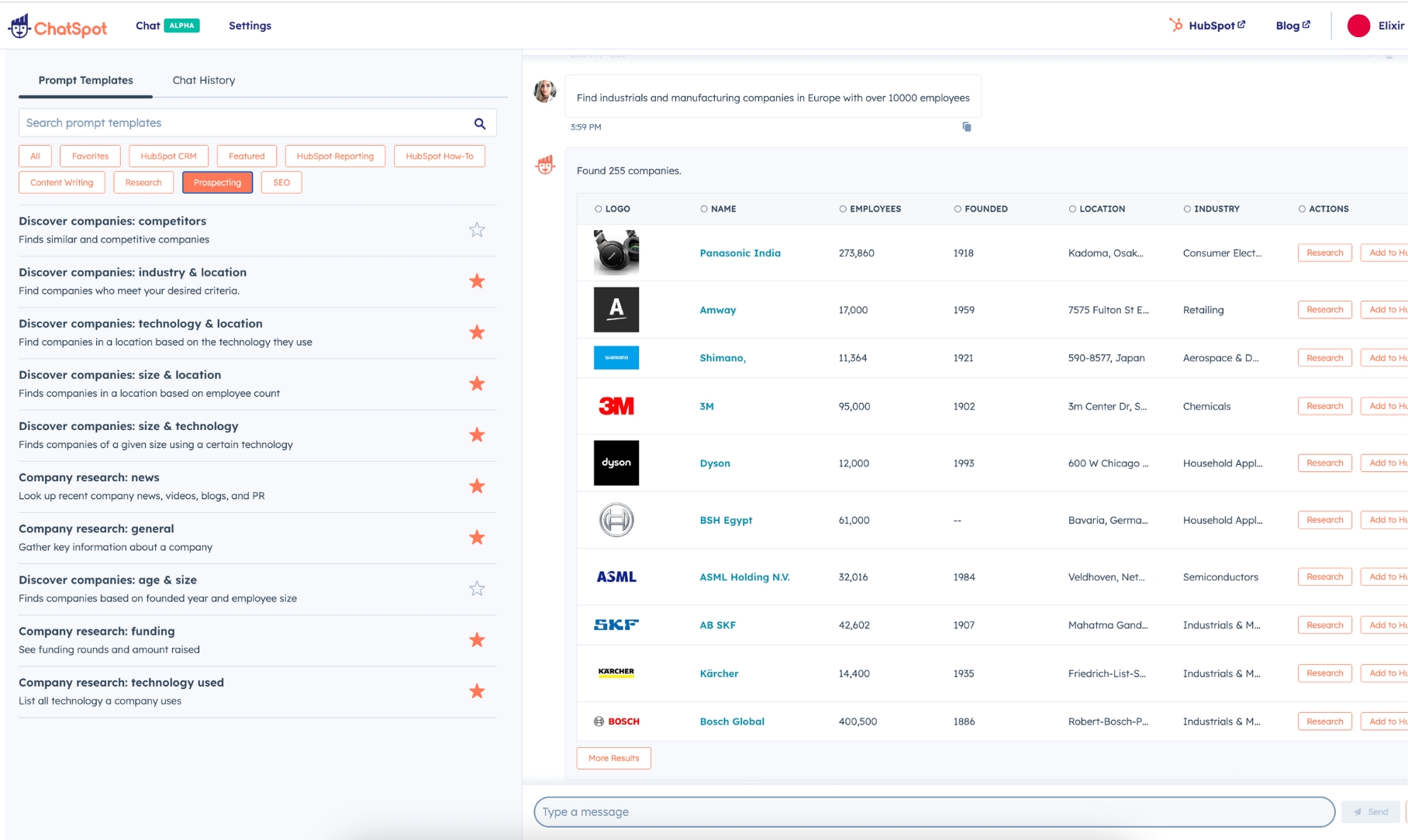 The advantages: Why should you use Hubspot ai tools?
1. Time-Saving Efficiency
Time is a precious resource, and the HubSpot AI tools are here to help you make the most of it. By integrating these tools into your daily routines, you can save 2-3 hours per day per content piece. The automated functionalities provided by the tools streamline your activities, allowing your team to focus on strategic initiatives and higher-value tasks to drive growth and innovation.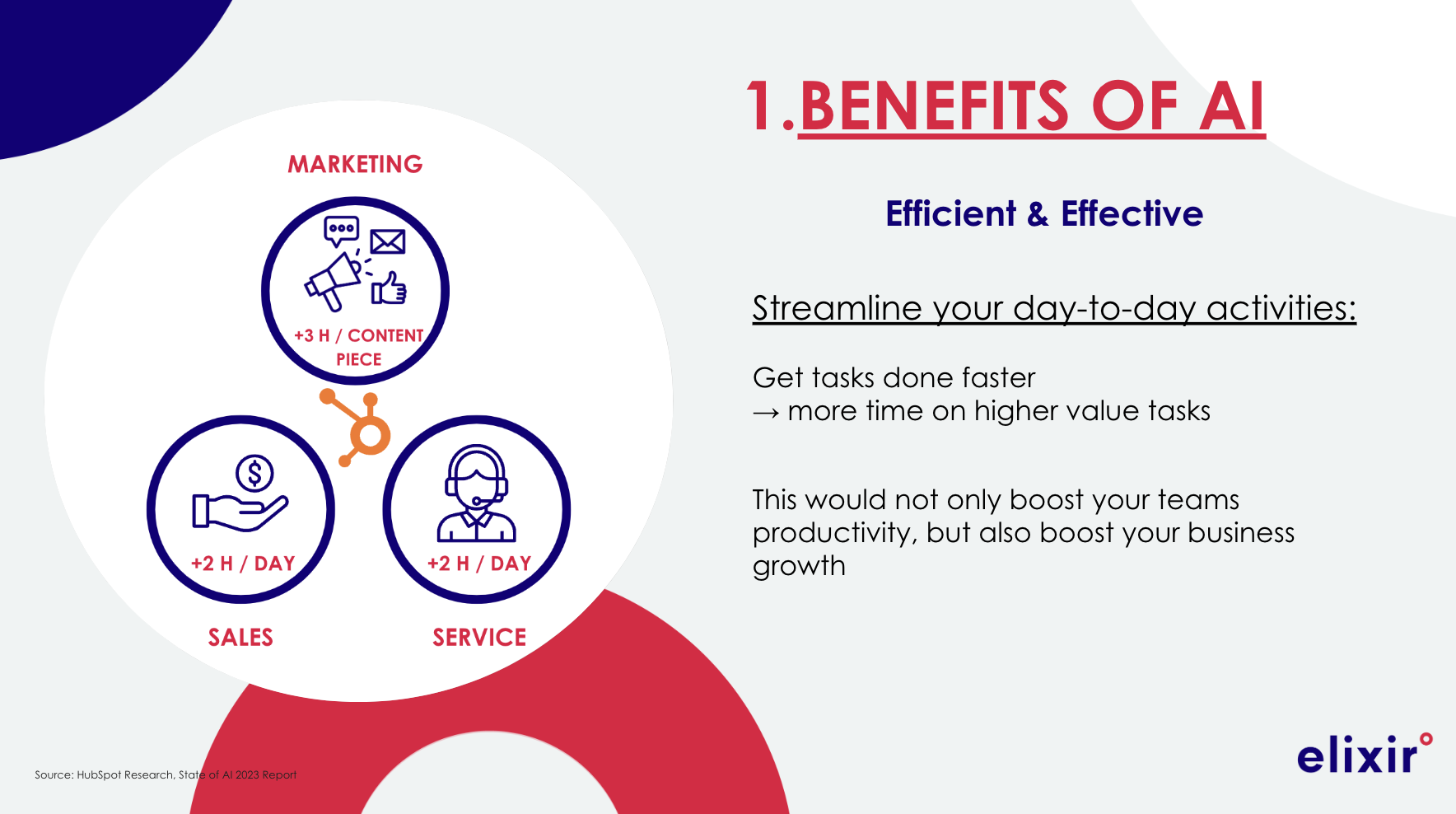 2. Aid in Content Creation and Copywriting
By using HubSpot's AI tools, you can dedicate more time to planning your content strategy rather than spending excessive hours on writing content. These tools empower your team to deliver engaging and high-quality content without compromising on time or efficiency. So, don't waste your valuable time on manual content creation. Allow the AI tools to write your content and allocate more time to content planning and reviewing, knowing that you have the support of advanced technology to deliver engaging and effective written content.
3. Free and Available Across HubSpot Hubs
The best part? One of the remarkable advantages of HubSpot's AI tools is that they are free for all subscription levels and available across the Marketing, Sales, and Service Hubs. With no additional cost, your teams can save budget. While all three hubs benefit from the AI features, Marketing has the most advanced capabilities. While the Marketing Hub offers the most extensive range of AI features, all teams can benefit from the time-saving and efficiency-boosting capabilities of these tools. This ensures that businesses of all sizes can leverage the power of AI to optimize their operations.
4. Native Integration and Seamless Experience
Integrating HubSpot's AI tools into your workflow is a breeze, as you can do everything directly within the HubSpot platform. This eliminates the need for switching between multiple tools or interfaces outside of HubSpot, allowing for a seamless and efficient user experience. Your team can effortlessly access and utilize the AI tools without any additional complexity or learning curve.
The drawbacks: HUBSPOT AI TOOLS are not perfect
While the HubSpot AI tools are a valuable resource for your team, it's important to note that they are not perfect and do come with limitations.
1. Limited data
As a new tool, the HubSpot AI algorithm is in its early stages. This means that is has access to limited data, behaviour patterns and features, and is continuously learning and evolving. As it progresses and gains insights from user interactions, it becomes more intelligent and better equipped to deliver highly personalized and accurate content, thereby reducing the limitations.
2. Limited personalization
Currently, the AI functionality is primarily focused on copywriting and content generation, making it an excellent starting point for your team's content creation needs. However, it's important to understand that the generated content is more influenced to an extent by general internet trends rather than your specific HubSpot or existing content. HubSpot recognizes these limitations and is actively working towards improving and customizing the AI capabilities in the upcoming months and years.
3. Limited accuracy
Collaborating with AI is crucial for success. It's essential to understand that AI is not a replacement for humans or content creation, but rather an accelerator and enhancer. To maximize the benefits, your team should collaborate with the AI tools. While the AI writes based on the team's brief, the team acts as the editor, reviewing content, verifying information, and making necessary adjustments. This collaborative approach ensures an optimal balance between AI capabilities and human expertise, enabling you to steer clear from plagiarism, copyright infringement while delivering highly-tailored content to your audience.
Conclusion
To end, HubSpot's AI tools - Content Assistant, Campaign Assistant, and Chatspot, are on set to transform the way businesses operate in the digital landscape. These powerful tools not only save time and enhance efficiency, but also empower your team to create compelling content and copy, taking your marketing, sales and service teams efforts to new heights. While they come with certain limitations, such as limited personalization and accuracy, HubSpot is committed to improve and customize the AI capabilities. And with the power of AI and humans at your fingertips, there is no limit to what your business can achieve.
What are you waiting for? Join the AI revolution and embrace HubSpot's AI Tools to skyrocket your business potential. Watch our Youtube playlist ,where we'll dive even deeper into the AI-tools showcasing its true potential.