Unlocking the Power of AI in Hubspot: Supercharging Sales and Marketing
In today's rapidly evolving business landscape, harnessing the potential of artificial intelligence (AI) has become a game-changer for sales and marketing teams. As seasoned Hubspot experts, we're thrilled to dive into the dynamic world where AI intersects with Hubspot, enabling businesses to unleash their true potential. Join us on this expert-guided journey as we unveil how AI-driven automation and personalized experiences are revolutionizing the way sales and marketing operate within the Hubspot ecosystem.
Overview :
THE EVOLUTION OF AI: EMPOWERING BUSINESS TRANSFORMATION
THE PATH FORWARD: STAYING AHEAD WITH ELIXIR AND HUBSPOT
MAXIMIZING SALES AND MARKETING SUCCESS: HARNESSING THE POWER OF AI IN HUBSPOT
ACCELERATING SUCCESS: LEVERAGING AUTOMATION AND EFFICIENCY IN HUBSPOT & AI
PERSONALIZED EXPERIENCES AND TARGETED CAMPAIGNS: CONNECTING ON A DEEPER LEVEL
CONCLUSION: EMBRACE THE POWER OF AI IN HUBSPOT FOR UNPARALLELED SUCCESS
Prefer to watch videos? Watch this video and learn all about what AI can help you achieve in Hubspot:
The Evolution of AI: Empowering Business Transformation
Artificial intelligence has rapidly evolved from a futuristic concept to a game-changing reality, reshaping various industries along the way. Today, it is making significant inroads into the realm of sales and marketing, revolutionizing how businesses operate.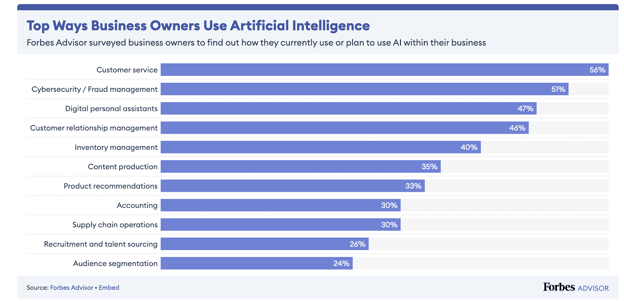 source: https://www.forbes.com/advisor/business/software/ai-in-business/
At Elixir, we recognize the transformative power AI holds for enterprises. By offering industry insights, best practices, and practical tips, we aim to equip businesses with the knowledge and understanding they need to navigate the evolving AI landscape. Our goal is to empower businesses to leverage AI in their sales and marketing efforts, optimize their strategies, and drive growth and success.
The Path Forward: Staying Ahead with Elixir and Hubspot
While AI is still in its early stages, its potential for businesses is enormous. As a leading Hubspot partner, Elixir remains committed to closely monitoring advancements in AI technology and exploring ways to provide cutting-edge marketing and sales solutions to our clients. Our aim is to empower businesses to outsmart their competition and enable them to outperform competitors in this ever-evolving landscape.
Maximizing Sales and Marketing Success: Harnessing the Power of AI in Hubspot
AI has the potential to revolutionize the way sales and marketing teams function within the Hubspot platform. By leveraging advanced machine learning algorithms, AI empowers sales representatives to identify and prioritize leads with the highest conversion potential. Additionally, it offers valuable insights into the most effective marketing channels, enabling marketers to optimize their strategies for increased traffic and lead generation.
Accelerating Success: Leveraging Automation and Efficiency in Hubspot & AI
One of the standout advantages of AI is its ability to automate routine tasks, such as lead scoring, data entry, and follow-up emails. By automating these time-consuming responsibilities, AI frees up valuable time for sales reps to focus on building relationships with prospects and closing deals. This automation not only enhances efficiency but also allows for more strategic and impactful activities.
Personalized Experiences and Targeted Campaigns: Connecting on a Deeper Level
AI excels at delivering personalized experiences for both sales and marketing endeavors. Through in-depth analysis of customer data, AI enables marketers to create highly targeted and personalized campaigns, while providing sales reps with valuable insights into each prospect's specific needs and pain points. By infusing personalization into every interaction, businesses can foster stronger connections and drive higher conversion rates.
Conclusion: Embrace the Power of AI in Hubspot for Unparalleled Success
Artificial intelligence has emerged as a catalyst for transformation in sales and marketing. Its ability to streamline operations, drive efficiency, and unlock new levels of personalization presents unprecedented opportunities for businesses.
Ready to maximize your sales and marketing potential with AI in Hubspot? Contact us today to explore how elixir, an elite Hubspot partner, can propel your business towards unparalleled success. Together, we'll navigate the exciting possibilities that Hubspot has to offer in this dynamic era.
📚 Unlock the Guide: Looking to master the art of HubSpot AI? Don't forget to check out our free guide, where we share in-depth insights, expert tips, and solutions to common limitations we discovered during our testing. Grab your copy in the description below. ↓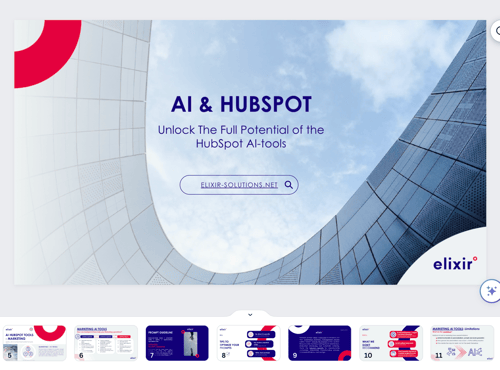 Resources:
The Evolution of AI: Empowering Business Transformation
Artificial intelligence has rapidly evolved from a futuristic concept to a game-changing reality, reshaping various industries along the way.
Maximizing Sales and Marketing Success: Harnessing the Power of AI in Hubspot
AI has the potential to revolutionize the way sales and marketing teams function within the Hubspot platform