How to use Content Assistant: Maximizing HubSpot AI-tool for Content Creation
In the dynamic realm of marketing, where every campaign and strategy counts, businesses are constantly seeking innovative tools to maximize their efforts. Meet HubSpot's free AI-tool: Content Assistant, a revolutionary offering tailored to marketers navigating the challenges of limited budgets and resources. Designed to empower businesses and teams, this tool is a game-changer within the Marketing Hub of HubSpot, providing invaluable AI-powered support to streamline and enhance content creation. If you're a company aiming to make a big impact without the luxury of an extensive budget or a full-fledged team, Content Assistant might just be the secret weapon you've been waiting for. In this blog post, we'll delve into how this free tool can transform your marketing game and enable you to create compelling content that resonates with your audience, regardless of your resources.
TABLE OF CONTENTS
UNVEILING THE POWER OF HUBSPOT'S AI-TOOL: CONTENT ASSISTANT
INCORPORATING HUBSPOT'S CRM AND MARKETING HUB
SUPERCHARGE YOUR MARKETING STRATEGY WITH HUBSPOT CRM'S MARKETING HUB AND CONTENT ASSISTANT - OVERVIEW FEATURES CONTENT ASSISTANT
1. STREAMLINE YOUR CONTENT CREATION PROCESS

2. STRATEGIC CONTENT OUTLINING

3. ENHANCE YOUR CONTENT
ADDRESSING CONCERNS: DOES GOOGLE PENALIZE AI-GENERATED CONTENT?
HARMONIZING AI AND HUMAN EXPERTISE
CONCLUSION: A NEW ERA OF CONTENT CREATION
Unveiling the Power of HubSpot's AI-Tool:

Content Assistant
Before delving into the benefits of HubSpot's Content Assistant, let's take a closer look at what it actually is. In essence, the HubSpot AI-tool is an innovative integration that leverages the power of artificial intelligence to automate and streamline content creation within the HubSpot Ecosystem. By analyzing vast amounts of data, this tool can generate insightful suggestions, provide topic recommendations, and even offer content outlines to guide marketers throughout the entire content creation process.
Imagine having a virtual content creator/strategist at your fingertips, capable of analyzing the latest trends, identifying gaps in your content strategy, and providing data-driven recommendations to boost your marketing efforts. That's exactly what the Content Assistant offers. It combines the capabilities of machine learning and natural language processing to deliver actionable insights that can revolutionize the way you create and optimize your content.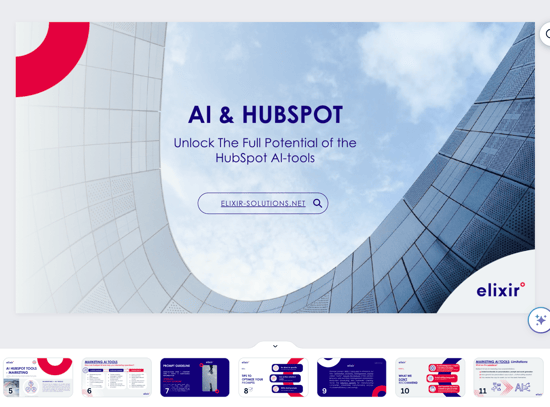 📚 Unlock the Guide: Looking to master the art of HubSpot AI? Don't forget to check out our free guide, where we share in-depth insights, expert tips, and solutions to common limitations we discovered during our testing. Grab your copy in the description below. ↓
Incorporating HubSpot's CRM & Marketing Hub
It's imperative to highlight that the HubSpot AI-tool seamlessly integrates with HubSpot's CRM and Marketing Hub. This convergence of capabilities fosters an ecosystem that ensures your content creation is precisely aligned with your overall marketing strategy. The HubSpot AI-tool functions as a dynamic bridge, ensuring your content serves as a driving force within your marketing endeavors.
Supercharge Your Marketing Strategy :

overview features Content Assistant
As a marketer, it's crucial to strike a balance between quality and quantity when it comes to content creation. With Content Assistant, you can achieve both.
Whether you're looking to create blog posts, social media content, or email newsletters, this tool can help you increase your content output without compromising on quality, all while fully integrated with HubSpot Marketing Hub.
1. Streamline Your Content Creation Process
The content creation process can often be time-consuming and overwhelming. Content Assistant streamlines this process, allowing you to focus your time and energy on strategic aspects of your marketing efforts. From generating content ideas to providing relevant resources and research material, this tool acts as your trusted partner throughout your content creation journey. It saves you valuable time by eliminating manual research and reduces the stress associated with content ideation, ensuring that you can consistently produce high-quality content that drives results.
2. Strategic Content outlining
Content Assistant can also provide content outlines, giving you a clear roadmap to follow when creating your content. These outlines are based on data-driven insights, ensuring that you cover all the necessary points and deliver a comprehensive piece of content that meets the needs of your audience.
3. Enhance Your Content
Creating content is one thing, but creating content that captures your audience's attention and engages them on a deeper level is a whole different ball game. This is where HubSpot's AI-tool Content Assistant shines. Content Assistant offers valuable insights and suggestions to optimize your content. Whether it's suggesting relevant images, recommending additional sections to include, or even offering alternative headlines, the tool can provide valuable input to enhance the quality and impact of your content. By incorporating its recommendations, you can fine-tune your content and make it more compelling, thereby increasing its chances of attracting and retaining your target audience's attention.
Addressing Concerns: Does Google Penalize AI-Generated Content?
It's natural to have questions about the impact of AI-generated content on search engine rankings. One common concern is whether Google penalizes content that is created with the assistance of AI. The good news is that, when used correctly, AI-generated content can actually enhance your content strategy and SEO efforts.
Google's primary focus is on the quality and relevance of content. If the AI-generated content provides value to users, is relevant to their search queries, and meets Google's content guidelines, it is unlikely to be penalized. In fact, many reputable websites use AI tools to help generate content that is informative, engaging, and tailored to their audience.
However, it's important to note that the responsibility still lies with content creators and marketers to ensure that AI-generated content meets the highest standards. Here are a few guidelines to follow:
Human Review and Editing:

While AI can assist in content creation, human review and editing are crucial. Review the AI-generated content for accuracy, coherence, and overall quality before publishing it.

Value and Relevance:

Ensure that the content generated by AI adds value to your audience. It should address their needs, answer their questions, and provide useful information.

Originality:

AI tools should be used to aid in content creation, not to replicate existing content. Plagiarism or duplicate content can negatively affect your SEO rankings.

Natural Language:

AI-generated content should sound natural and avoid keyword stuffing. Google's algorithms are designed to identify and penalize content that lacks readability and appears overly optimized.

Diversify Content:

Don't solely rely on AI-generated content. Mix it with original content, curated content, and other types of media to provide a well-rounded user experience.
Remember, AI is a tool that can help streamline your content creation process, but it's still up to content creators to ensure that the final output aligns with quality and relevance standards set by search engines. When used thoughtfully and ethically, AI-generated content can be a valuable asset in your SEO strategy.
Harmonizing AI and Human Expertise
Crucial to note, the HubSpot AI-tools don't seek to replace human creativity and proficiency. Instead, it acts as an accelerator and stands as an empowering aide, elevating your abilities and furnishing data-informed insights vital for crafting high-impact content. By leveraging the prowess of artificial intelligence, this tool empowers marketers to make well-informed decisions and optimize their content strategy for maximal resonance.
Conclusion: A New Era of Content Creation
In conclusion, HubSpot's AI-tool, Content Assistant, is a game-changer in the world of content creation. By harnessing the power of AI, this platform empowers marketers to automate their content creation processes, enhance the quality of their content, maximize their content output, and streamline their overall content creation process. With HubSpot's AI-tool, marketers can leverage cutting-edge technology to elevate their content game and drive meaningful results. Experience the content revolution with HubSpot's AI-powered suite today!
Discover more HubSpot AI-related content