The flywheel, applied to business strategy, is a concept that sticks since the beginning of the millennium. If it was destined to target the business in general, it can also be applied to the way it operates. What is it and how can I put it into my business strategy? That's exactly what we are going to go over in the following article. Stay put!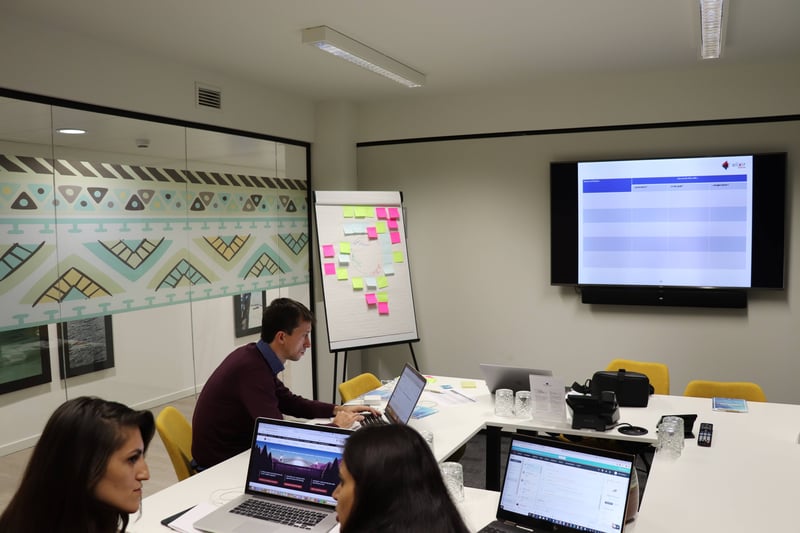 Where it all begins : innovative disruption.
The innovative disruption refers to a technology that disrupts the market because it is of a new kind, innovative. But the hegemony of the companies that offer innovative products and services is from the past. The present and the future are all about experience. Successful companies of today do not develop a technology that changes the market. They offer a great customer experience.
10 years ago, we talked about tech disruptors. Walmart, BMW, Photoshop, were all tech disruptors. They had a product that was innovative, that no one else was providing and really blew the minds of the customers. Those days are gone, but what took their place?
Take for example Amazon or Netflix. With the later, you purchase movies or series. That's not new, earlier we had television, or dvds when something specific was wanted. With Netflix, you pay a subscription, and have a long list of movies or series to watch from your laptop, your TV, or even your phone. They are what we call Experience Disruptors.
Now, what makes Amazon, Netflix, Canva, Tesla or Shopify successful?
Those are the names of experience disruptors. What are their common characteristics? For one, it is to center its offer on the experience to provide to the customer. To do that, they invest in a deep understanding of their customers. Who they are, what they think, feel and do at every step of their journey with the product, and then they build their offer around it. They simplify the processes to make it easier for the customer to buy. Often, those products are available under the form of a subscription. Why is that? Because the experience disruptors are actually counting on the fact that their customers will come back and keep using the product. As opposed to tech disruptors that are focusing on the conversion of new customers. Whene you are paying a subscription to Netflix, you keep doing it because the service and the experience are great.
Plus, they believe in the fact that users will actually become ambassadeurs of their brand. Making people talk about them and attract people into purchasing themselves. This is the basic principle of what is called the Flywheel. This model can help you understand what those companies do and how to apply it to your business.
Understand the flywheel approach...
I am sure you've heard about the funnel. The funnel was and still is widely used in entreprises to put objectives to Marketing and sales. It consists in attracting the most leads, to bring them in the funnel, to do the qualification during the journey, nurture them and then bring them into the sales funnel. At the end, the lead becomes a customer. And that's it.
In the Flywheel strategy, the Marketing, Sales and Service departments are working together to provide a great experience to the customer. From the moment he gets to know the product to the moment he uses it, the customer's experience comes always first.
This way, the customer is happy and will tell all of his friends about it.
Great, but how do I apply the flywheel to my business strategy?
First, you need to understand the persona of your buyer.
Second, try to map his journey with your product. Describe all the steps he is taking.
Thirdly, identify what you do to make the experience good, and what you do bad. Those are easily identified when you know where the persona opts out of your cycle.
...and apply it to your business strategy
After having done this exercise, take actions based on your discoveries. Don't let it rest. Make it part of your business strategy and act so that your persona stays in the flywheel, is happy with you and tells everyone about it! This word of mouth is what is the most efficient nowadays, so it is a must to think about.
At Elixir Solutions, we did the exercise ourselves, and I can tell you that it is very useful! It helps you think about your business from the customer's perspective and highlight what you have to do to improve it. We highly recommend to do it internally.
Want to do this exercise for your business strategy? Come to our free HUG event! It will be held on 12/12/19 in Brussels. We will try this exercise together and share our thoughts about it.