Customer Journeys from SAP ByDesign Projects to HubSpot Deals
Getting rid of data silos is a concern for every company. SKIM (http://www.skimgroup.com) uses SAP ByDesign as their ERP environment to run their day to day operations and customer projects. But as their Marketeers use HubSpot, sales data and operational data are not shared. Naturally, they contacted us for an integration. To be honest, the client was quite skeptical at the beginning. As their SAP ByDesign was highly customized, they were not fully convinced we could do it. But we made it happen! In today's blog, learn how this integration's unique features truly elevates their smarketing.

Admittedly, this was not a trivial case. So we proposed to split the project in 2 phases.

Phase 1: Companies and Contacts

Marketing is effective when it's targeting relevant people with correct and up-to-date information.
For this project, the first phase consisted of synchronizing companies and contacts from SAP ByDesign to HubSpot and back. In this way, newly created HubSpot contacts can be sent to SAP, and existing SAP accounts and contacts can be loaded into HubSpot so they are available for marketing purposes. As to avoid data pollution, rules were put in place. For example, contacts only sync if they are linked to companies from specific regions, and if these companies are flagged as relevant. The same logic applies for updates. Also, a filter and deletion flow was implemented.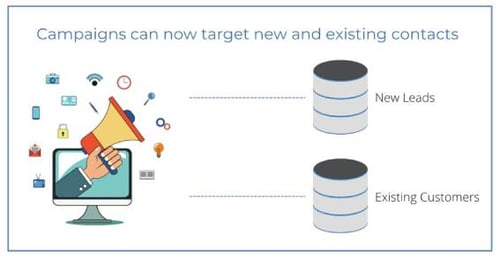 Interested in knowing more about integrations between SAP and HubSpot? Watch our webinar in replay:

Phase 2: 
Projects (in SAP) to Deals (in HubSpot)
To nurture leads and clients, you need to cater to their interests and leverage your known history with them. So, once the customers were migrated, transactional information (SAP Projects and HubSpot deals) was the next step. When migrating CRMs, migrating opportunities is more common. But SKIM's business involves many research projects they create in SAP ByDesign, their ERP system.
Visibility on these projects and their revenue is vital for SKIM sales and marketing department. All steps of the projects were translated into a deal phase in HubSpot, along with the reason for each step. This was not an easy job, since this complex object has been highly customized using SAP PDI logic. But this is what we like most, and this is why our SAP and HubSpot integration experts go to work for in the morning!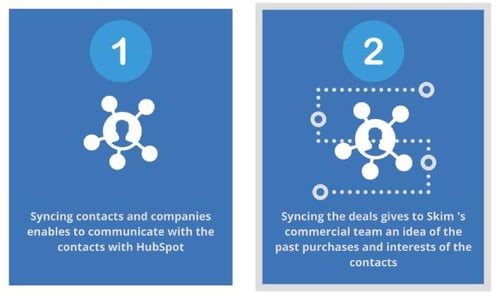 Finally: Relevant reporting and targeted marketing...
With the HubSpot and SAP ByDesign integration, a wealth of elements from HubSpot could now be displayed in SAP and vice versa. This allows SKIM to feed their reports with additional marketing data and calculate accurate Marketing and campaign ROIs.
On the other hand, nurturing customers and leads in HubSpot is made easier. By segmenting contacts by new fields populated from SAP (e.g.: the reason for a lost/won project, the average amount spent by the customer...), SKIM can now enhance their campaigns.
Discover how we do integration projects

...and a happy customer!

When we discussed with SKIM the prospect of featuring their story in our blog, Nikki Smathers, their Client Solutions Manager very enthusiastically provided their side of this story:
At SKIM, our ERP is SAP Business ByDesign. Because SAP's CRM features weren't robust enough for our needs, we implemented HubSpot CRM for one region of our company. The HubSpot CRM adoption was fast and quickly expanded into other regions of SKIM. This necessitated integration with our ERP to eliminate duplicity and provide accurate metrics on key performance indicators.

We spoke to a couple of potential development partners who claimed they could integrate SAP and HubSpot, but once they saw how our SAP ByD instance was configured, could not actually figure it out. Finally, we met Elixir Solutions! In first talking to Carl and outlining our needs, he was confident he could accomplish what we needed. We wanted to not only integrate our ERP accounts and contacts, but also our projects (SKIM revenue) so that we could have an up-to-date view of the entire sales history and pipeline.

Keep in mind here that I'm not a computer programmer, I'm a salesperson! Carl was able to translate my requirements and needs into development specs and he provided guidance along the way based on his direct experience integrating SAP ByDesign and HubSpot, specifically. These integrations are complicated! Carl and his team are amazing to work with - incredibly talented, responsive, consultative, and even (wait for it) fun! We now have the full integration and are finally able to use HubSpot to monitor and steer our sales pipeline and everything related!
---
About SKIM:
SKIM (www.skimgroup.com) people are research heavyweights specialized in customer decision behavior. Bridging the rational and emotional, they partner with leading companies to understand and influence the customer journey across all channels. Trusted for their critical, whole-brained smarts – they convert tough business questions into easy-to-grasp reporting and actionable answers.
About Elixir Solutions:
Active since 2013, Elixir Solutions (www.elixir-solutions.net) is specialized in CRM Implementations and Marketing Automation integrations. Our solution, ElixirSync, connects Marketing tools (Hubspot, Marketo Act-On, …) with SAP solutions (C4C, SAP ByD, among others), Oracle, Zoho, Bullhorn, Microsoft Dynamics AX, Showpad, SFDC,... out of the box, and with mobile apps or custom CRM solutions as well.