Last year, HubSpot announced CRM Extensions. Quickly, this feature has allowed many HubSpot users to display a button or show external information into a small window of a company or contact's profile. In the most common uses, this allows you to delete a contact in a linked CRM, display the last invoice, or other similar quick actions. That being said, more original use cases are possible!
In this blog, learn how CRM extensions were leveraged in our app to trigger an additional window of information about customers, all within a click in HubSpot!

The CNH situation

:
CNH Media specializes in Online Marketing. They improve their customer visibility with, amongst other things, Google Adwords and SEO optimizations. One of their most popular service is to improve web advertisements for their customers. Therefore, when reaching out to potential leads, they need to gather a large array of information about the current search results of the customer: Areas for improvements, targeted keywords, categories ... all should be accessible with a quick glance!
In a normal situation, this would require them to store this in a screenshot or text document, which they store it in a shared folder or in an external platform. Then, they would open it everytime they contact a lead. Of course, additional fields can be created, or users can fill in a Note, but that data wouldn't be centralized in a convenient area. Instead, it would be drowned or buried deep in the CRM.
Like all marketing agencies, the life at CNH Media is face-paced and every second counts.
So, they need to navigate in a customer profile with the most accuracy and productivity!
At CNH, the sales team use HubSpot as a main tool to manage customer data. Therefore, all needed information should be easily accessible and centralized in HubSpot's interface.
Entrusting our HubSpot consultancy experience and integration experts, CNH Media has reached out to Elixir Solutions to develop a tool that would enhance their HubSpot experience!
The "Elixir" Solution: HubSpot CRM extensions!
Using our deep knowledge aligning HubSpot with other systems, we collaborated to offer a tool that leverages the latest HubSpot technologies and is tailored to CNH's needs.
When opening a company profile in HubSpot, the users would now see a new button to "Create" a Company Ad :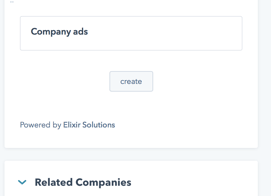 There, they can then fill in a mock-up of the existing ad, targeted keywords, the desired search engine, some areas for improvements on the customer's offers ...



This could then be shared to the whole CNH team, with information accessible within a quick glance: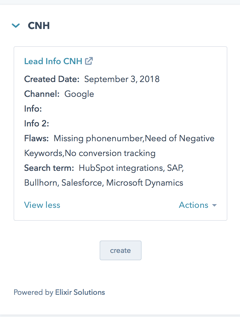 Thanks to HubSpot's advanced app authentication, no further login is needed.
Without needing access to an external platform, all required customer data is displayed right within HubSpot and can be edited immediately. And this was created within a single click on the company profile!
Extend your own HubSpot interface!
Whether you need a similar screen, or if you would love to display in HubSpot additional information from external systems within a few clicks: contact us! Let's assess together how, by leveraging HubSpot possibilities, you can improve your customer journey alignment.
Download the pdf version here!



Happy HubSpotting!

About CNH Media:
CNH Media (https://www.cnh-media.com) helps companies daily promote their business's online visibility to their customers.
As a customer at CNH Media, you will find that you are part of the entire process - from the conclusion of the collaboration to launch the finished product. They are in dialogue with you all the way. This ensures that both parties are tailored to suit every need. CNH Media often often experience returning customers, and we value and live long-term relationships with our customers. They hold your hand throughout the process so if you have any questions, do not hesitate to contact hem!

About Elixir Solutions:
Active since 2013, Elixir Solutions (www.elixir-solutions.net) is specialized in CRM Implementations and Marketing Automation integrations. Our solution, ElixirSync, connects Marketing tools (Hubspot, Marketo Act-On, …) with SAP solutions (C4C, SAP ByD, among others), Oracle, Zoho, Bullhorn, Microsoft Dynamics AX, Showpad, SFDC,... out of the box, and with mobile apps or custom CRM solutions as well.