Sync HubSpot and Formstack forms: Build even more powerful forms!
Elixir Solutions became recently a Formstack forms certified partner. Why? Because we noticed that for some of our clients, HubSpot Forms weren't enough. Though it has already lots of capabilities, Formstack forms enables to access even more features. And thanks to the HubSpot integration, you can get the data in your CRM! We are very happy about the beginning of this collaboration, and wanted to share with you how it works. Stay tuned to discover all about it.

Why using Formstack when HubSpot already provides you with forms?
Formstack forms just give you more possibilities in certain areas than HubSpot forms. Let's take a look at some things that are added.
Fields
HubSpot native forms are giving you a large set of possibilities. You can create pop-up forms or regular ones that you can embed on your pages. They give you a large set of possibilities in terms of fields and automation.
Formstack forms expand your possibilities. A large variety of fields are available. Some of them aren't possible in HubSpot, the star rating field, matrix field, or the ability to do payments in the form.
Logic
When in HubSpot, you can add logic on your form's fields, in Formstack you can add logic to an entire section. This means that an answer to one field can lead to the appearance of an entire set of questions.
Design and publication
In Formstack, the possibilities of design are wide. You can add images, videos and text in the form. As you have the possibility to give a url to your form and create a form page from Formstack, you are also enabled to use or create a template form this form page.
More than that, you can embed your form on your landing page or even on social media.
A/B test
Other interesting feature : you can A/B test your form. In HubSpot, the A/B test is made on the page level, when in Formstack, your form in itself is A/B tested. You are also provided with the analytics needed to measure the performance of your forms.
Beyond simple forms, surveys and workflows!
We already seen what Formstack forms can do more than HubSpot forms. But beyond that, they have other type of forms that you can use.
Surveys
You can choose to do a survey. Basically, those are forms that are destined to be filled on a smaller screen. They are built in multiple steps to give this quiz feeling.
Workflows
A workflow form is a form that happens in multiple steps, involving different persons. You could use this for processes that involve several validation steps. For example, in the context of a job application. The first questions could be filled by the applicant, and then be reviewed by one HR representative for the first screening. Then, it would be sent to the HR manager for a second screening, then to the team. At each steps they would have to complete the form to leave their comments.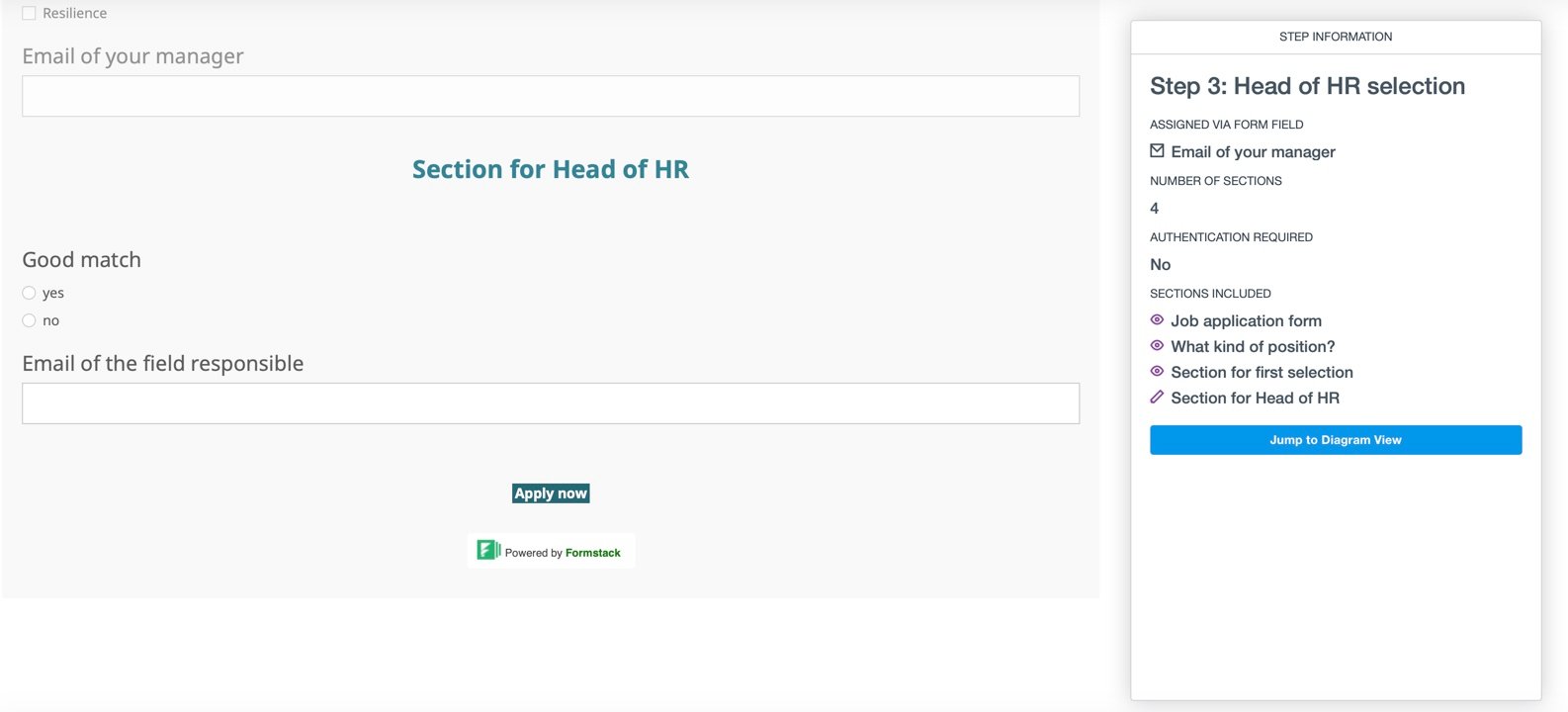 Formstack to HubSpot integration
The integration with HubSpot will sync the fields data, the leads and the tracking. It can also sync even more with another integration! This way, you can gather the information that you need, convert and track your contacts when using all of the possibilities of Formstack forms!
Is that the only integration you are thinking about? Check out all the integrations we can help you with: