Setting up Revenue Operations Team | Elixir Solutions
Upgrade Estate is a growing Belgian company, active in the real estate industry for more than 20 years. They realize and manage accommodation for students and young professionals and provide hassle-free investment opportunities in these accommodations for people searching for passive income streams. Started in Gent in 1999, they now have almost 30 accommodations across Belgium.
Challenges
Because of the dual business model and the many stakeholder-facing teams (marketing, sales, rent, procurement and expansion), there was a lack of end-to-end visibility on the commercial processes.
Every team was also responsible for its own communication which resulted in overcommunication, different communication styles and lacking personalization. On top of that, a plethora of systems was used with data floating around, which contributed to the lack of visibility and led to a lot of manual work keeping all these systems up-to-date with the latest information.
Upgrade Estate was not only looking for new tools to assist their growth, but also new processes and ways of working to mitigate the growing pains they were experiencing.
Why Upgrade Estate chose HubSpot and Elixir
Choosing HubSpot as their new CRM platform, allowed them to bring their marketing, sales and support departments to the next level. It allowed their marketing and sales teams to work on the same platform with the same database and have a more complete view of the different stakeholders' customer journeys.
But Upgrade Estate also needed a party that could assist them in changing the organization, challenging the status quo and ensuring the stakeholder-facing teams all contributed to the generation of revenues. As digital business engineers, Elixir's team is well positioned to bring this added value by transforming commercial departments. Together with Upgrade Estate, we re-imagined their digital processes and systems, helping them outsmart the competition.
What is Revenue Operations?
Revenue Operations is a centralized operations team that serves all customer facing departments to ensure end-to-end visibility and accountability on all customer facing processes across sales, marketing, service and backoffice. The image below clearly indicates the difference between the "old" scenario where every front office department has its own operations team and the customer is handed over from Marketing over Sales to Customer Success with a risk of losing the end-to-end visibility on the customer journey. Revenue Operations attempts to tackle this issue and create a harmonized team to ensure the alignment of all customer facing departments.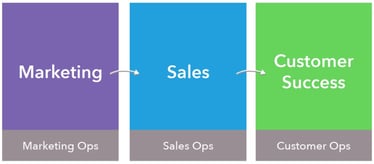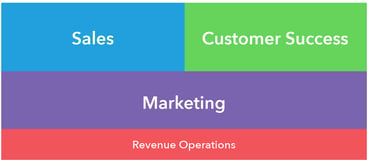 The setup of a Revenue Operations team is a business and organizational change strategy, not a technical tool implementation. But a harmonized CRM suite to centralize all the commercial data like HubSpot can of course play an important role in the successful implementation of this change strategy.
RevOps at Upgrade Estate
After the initial assessment exercise, in which we dived deeper into the strengths, weaknesses, challenges and objectives of Upgrade Estate, we specified a detailed road map, planning and budget for the implementation of HubSpot and installation of a Revenue Operations (RevOps) team. The latter was split into 3 phases:
Phase 1: Revenue Operations blueprint
Phase 2: Initial setup
Phase 3: Advanced setup
Phase 1 was scheduled to take 1 month, the initial setup 2 months and the last phase would be done once the HubSpot onboarding was finished. Each of the phases, and the results of the project, are explained in more detail in this PDF.