The success story of Visix starting with Ecommerce | Elixir
Visix Brand Shiners is a Belgian company specialized in textile printing of promotion material for in- and outdoor applications such as tents and banners. They are one of the market leaders with a strong client portfolio. The company's strength is their product variety & producing tailor-made promotion material.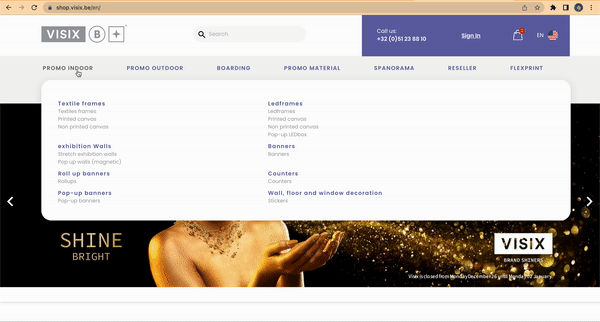 Do you prefer to read this article in pdf? Download your copy here!
CHALLENGE
Visix started to lose clients to their competition due to the absence of a webshop. Some of their competitors had already expanded into ecommerce and mainly operate in neighboring countries. As they were changing their competitive landscape, they captured Belgian clients with their webshop in the process. They exploited the biggest benefit of a webshop, which is bringing ease to customers. Customers can simply create orders online, without being in direct contact with a sales rep through email or telephone. This was still the case for Visix, and they had to react to this.
The logical solution was to set up a webshop, but it was not as simple as it sounds like. There were some factors to consider and requirements to be met
The webshop must incorporate the company's strength, which is offering custom-made promotion materials
All order information from the webshop must be stored in Visix' current IT systems, so other departments (finance, production, sales, etc.) could access it
APPROACH
To realize this project, we approached this step-by-step. We took each factor into account and met all the requirements. We accomplished this by doing the following:
We built a webshop with a super advanced CPQ, which unlocked important functionalities for both the customer & Visix:

Customers can configure a product themselves, down to the smallest details (dimensions, materials, visuals, etc.), rather than contacting a sales rep with the order specifications and details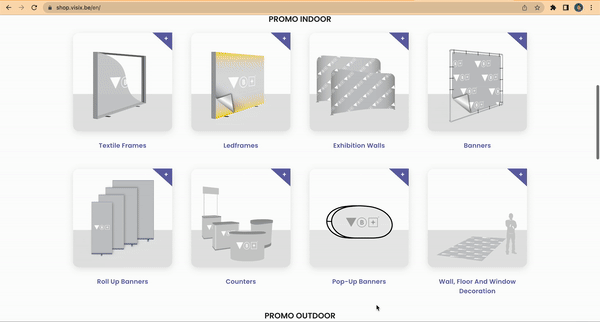 Customers can do a price comparison during the configuration and comfortably make a decision on the end product.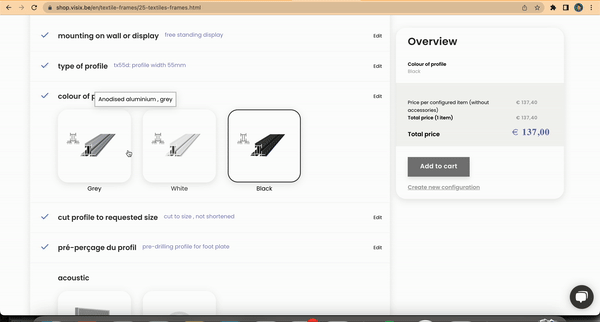 With the CPQ, the back-office will create less orders themselves and can devote time on other administrative duties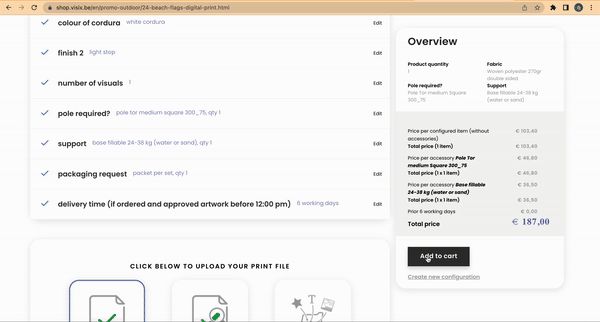 Sales reps can use the webshop during sales meetings and can either create on-site orders or demonstrate the ease and simplicity of the webshop to the customer



We ensured all order information from the webshop got sent to Visix' IT system by using our proprietary middleware
RESULT
The launch of Visix' webshop has proven its success over time and is beginning to pay off:
Former customers that have opted for the competition have returned

The webshop accounts for 25% of their sales revenue

Visix's annual revenue has increased by 10%
NEXT STEPS
The next step for us is to support Visix's webshop. We continuously work on improvements based on feedback from customers, visitors and the Visix team, so we can ensure they can increase the number of sales through the webshop and win more customers over time.
You found this story interesting? Check out our other Customer stories now.