WordPress plugins vs HubSpot's App & Asset Marketplace
When you use a Content Management System (CMS) like WordPress or Hub CMS, you have the opportunity to add plugins or apps to your CMS. In this blog post, we compare WordPress plugins with HubSpot's App & AssetMarket. What are the differences? What are the (dis)advantages? All these questions will be answered in this blog post, so that you know which CMS with their plugins/apps is the best fit for your company.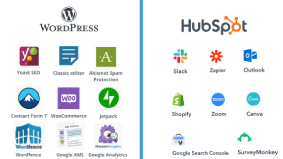 The main difference between WordPress plugins and HubSpot's App Marketplace is the kind of plugins/apps they offer. WordPress has plugins for SEO, contact forms, spam protection and much more. At the same time, HubSpot has SEO and contact forms already built-in in their CMS. HubSpot's App Marketplace focuses more on apps like Slack, Zoom, Outlook, Zapier, Shopify, SurveyMonkey and much more.
WordPress plugins
WordPress has more than 57 000 free plugins. But what are plugins exactly?
Plugins are pieces of software that can be installed on your website to add a functionality. There are different plugins, from social media buttons to speed optimizations. This doesn't mean that you need to add every existing plugin, because every plugin takes space, it makes your website 'heavier'. How much heavier depends on the functionality of this plugin (e.g. a list of your blog posts is less heavier than a webshop plugin).
In WordPress, you have a great offer of free plugins. So, why would you pay for a premium plugin? In some cases, it could be useful to invest in premium plugins.
Add more functionalities to your website.

Offer more security than free plugins. Very important when this functionality processes personal information.

Provides support. You can contact the developers when you have issues with a plugin. You don't have this kind of service with free plugins.



If you want

a fully custom website,

it's recommended to use premium themes and plugins. Important note: you need someone to continuously manage your website and keep things updated. Why? Otherwise you have a

high hacking risk

.

Next to that, if you're interested in doing

inbound marketing

on WordPress, you really need to add plugins to your website: form functionality, landing page and CTA functionality, integrated email platform that supports automated email follow-ups/workflows, a CRM, SEO, analytics packages and social media management. All these functionalities are already built-in in Hub CMS like I mentioned before.



| | |
| --- | --- |
| Advantages | Disadvantages |
| Plugins to achieve anything | Security issues |
| Access to themes, modules and templates | Too many plugins will slow down your website |
| | Requires many plugins for full features |
| | Some plugins are poorly written |
| | Always think about updates. To make sure these plugins don't conflict with each other |




HubSpot's App Marketplace

With HubSpot's App Marketplace, you can integrate tools that you need for your business if you have a HubSpot account. All apps in the marketplace are

reviewed and certified

by HubSpot's team of developers.

HubSpot's App Marketplace is an

easy-to-use

platform, because you find every app at the same place in HubSpot. It's possible to see only the apps that work with your current HubSpot subscription. On the app listing page, you have an overview of the app's features and pricing, find support support resources and learn how data is synced between the app and HubSpot. Important note: if the app is provided by an HubSpot App Partner, you have a section that include links to the partner's support resources.

HubSpot's Asset Marketplace
In the Asset Marketplace, you have access to thousands of themes (both free and paid), so you can easily customize the look of your website, email and landing pages. You also have modules and templates.
| | |
| --- | --- |
| Advantages | Disadvantages |
| Easy to use | Less apps |
| Security | |
| Access to themes, modules and templates | |
| Apps are reviewed and certified by HubSpot's team of developers | |
| | |
Did you know that...
Elixir Solutions is a certified member of the HubSpot App Partner Program? With this program, HubSpotters can find and integrate the best software. The integrations, you find in the Marketplace, will unite your company. Your marketing, sales and service departments need all different tools, but HubSpot's ecosystem of apps unites your tech stack.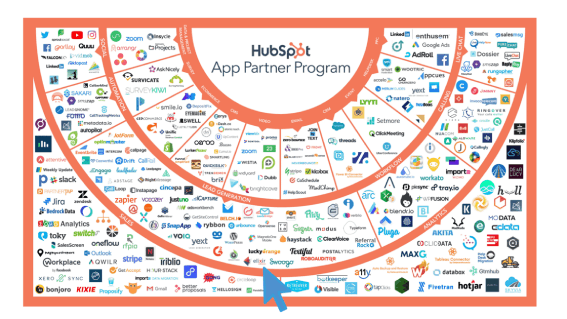 Download our free Hub CMS one-pager to know which Hub CMS services we provide!