Managing your ABM strategy with Hubspot
In a previous article, we explored how to implement account-based marketing in your company and some basic HubSpot features to do so. We will now explore the new functionalities of HubSpot for ABM and focus on how to analyse your results.
In May 2020, the ABM features have been released to the public. You will access them with Marketing Hub Professional and Enterprise and with Sales Hub Professional and Enterprise.
Basic properties
Firstly, there are some new properties and workflow template: Buying role, target account, ideal customer profile tier. Those are presented in a previous article. They are the basis on which the other tools are built. And today, we will see how they can help you manage your ABM strategy.
How to manage your Account-based marketing with your HubSpot CRM
A. Overview the efforts of your ABM with the target accounts home
In Contacts>Target accounts home, you will find the metrics to oversight your progress and efforts in all your target accounts.
In this head quarter of ABM, you will see all of the accounts. By defaults, you can also see which account would need to have some activity. You will have the list of accounts for which no call, meeting or deal exist.
You can also see for which account you didn't establish contact with a decision maker.
The last one will display the accounts in which a contact is blocking the decision.
In there, you will also find suggestions of target accounts. These suggestions are based on industry, size and page views...
B. Oversight the actions taken in a specific account with the account overview
This feature is available for Sales hub Professional and Enterprise.
If you want to see what is happening in a specific account, for example if you are the responsible of this account, the account overview is where you will be able to do it.
It displays the major elements happening in this particular account: contacts, deals, page views, meeting, emails, calls. You can quickly know what is done in this account and the results of your actions.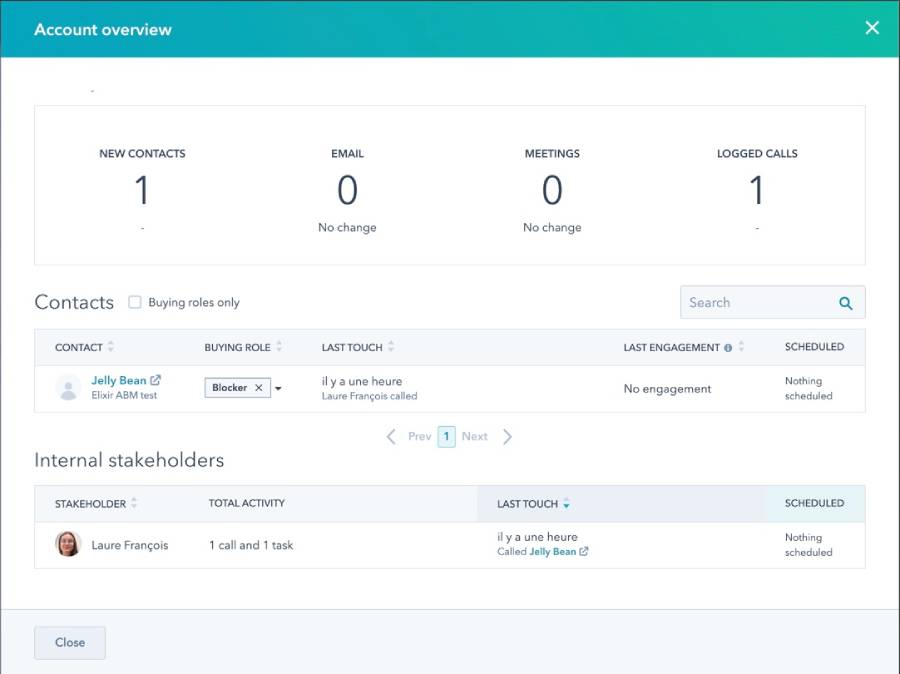 C. Analyse the results of your ABM actions with the right dashboard
As ABM is a strategy in itself, especially if you dedicate a team to it. That's why having specific dashboards to measure the metrics is essential.
Three out-of-the-box dashboards are also available. Depending on your objectives, you can choose the one that will enable you to oversight better the results. You can also improve them with some custom reports, if you feel that it is appropriate!

Other useful features
Other than those global ABM tools presented above, there are also more operational tools:
Lists based on the buying roles and target accounts:

Those lists enable you to target specific groups in your target accounts. They can be used in the other tools, like the ads.

Default playbook to sell in ABM strategy:

For the sales representatives, a default playbook is available to direct the calls.
If you want to activate the ABM features in your account, here is the way to do it: https://knowledge.hubspot.com/account/get-started-with-account-based-marketing-in-hubspot
Download our free ABM one-pager to know how we can guide you through the process of implementing an ABM strategy