HubSpot is providing a lot of tools covering all of the areas of inbound marketing. They of course have tools to support your SEO efforts. Taking advantage of it is a matter of using them the right way. That's why we've gathered some best practices on how to use the HubSpot features to help your SEO.
1. Take a look at the SEO recommendations
In the marketing SEO strategy tool, you first receive global SEO recommendations, per entity (domain, subdomain). It analyzes your website and gives you global guidelines to improve your SEO. For example, you will find advices like "increase word count" with the list of the pages affected and the importance of this improvement. This is very insightful in terms of on-page optimization. Keeping an eye open for those optimization tips will enable you to improve your content creation and to set up the basis of your SEO.
2. Organize your content into topics
Your website content architecture matters for search engines. Make sure that you are covering topics related to your business and that those are addressed coherently and specifically. With the SEO strategy tools of HubSpot, you can organize your content into topics, and visualize the hierarchy. How should you use that? Make sure that you put your main content at the center, and write about specific questions related to it.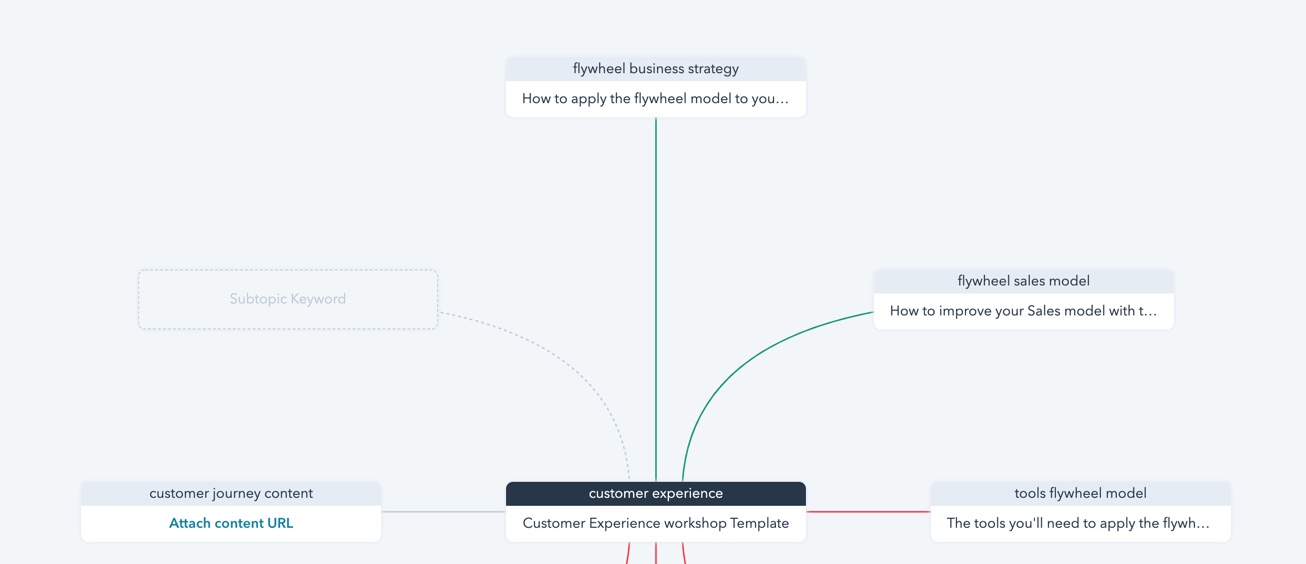 3. Integrate with the google search console
In the same environment, you can leverage the data out of the google search console. Indeed, it will enable you to get insights on the number of researches of a specific keyword, as well as keywords and topics suggestions. Don't miss out and integrate with the Google Search Console!
4. Use on-page optimization tips as you write
When using the CMS, on blogs, landing pages and website, you receive on-page SEO recommandations on it. Don't wait until it is published, you can access those insights while writing. You can use those as guidelines to write, if the author of this piece of content is unused to copywriting, as well as to SEO, to make sure you don't forget anything.
5. Build a microsite
With HubSpot, you can choose the domain name on which you want to publish your content. In the Marketing Hub Enterprise plan, you have the ability to connect a secondary domain name. Building a microsite is a strategy that can bring benefits for a particular aspect of your business.
6. Analyze your metrics with out-of-the-box traffic analytics and website analytics
Regarding the out-of-the-box reporting tools of HubSpot, two interest particularly SEO professionals. The Traffic analytics and Website analytics ones.
- Traffic analytics: Include data on all of the domains connected to HubSpot. Even if your website is managed on Wordpress or Drupal, you'll see there data. Watch out the part of your traffic coming from the organic search, topic clusters the most popular and top performing pages.
- Website analytics: here, you can see the data for a domain or subdomain in particular, managed on HubSpot. You can dive deeper on what in the most converting.

7. Pay attention to your blog's relationship to your main website
Something that we've noticed at our clients is that they sometimes have a common pain point: they see their blog competing with their domain, which they don't like. Now, this comes from the fact that their blog structure is not optimized. Some explanations on this phenomenon:
A blog on a subdomain (blog.domainname.com) will be seen as a separate entity. This is a structure recommended for blogs that have a content different or more specific than your website. The queries on which they will appear will thus be different as those of their website. The negative side for some businesses is that they target the same topics and keywords, which results in keyword cannibalization.
On the other hand, a blog on a subdirectory (domain name.com/blog) will be seen a part of you website. Thus, if you want to use your blog as a help to push your main pages, this is the right structure to use.
Now, in HubSpot, if you're using the entire CMS suite, you will have the choice of how to structure your blog. Choose wisely, and if you need guidance, don't hesitate to reach out!
8. Don't make your blog private
Gating your content is a functionality of HubSpot. It has benefits, but if you are in a SEO optic and want to drive traffic to your website with your blog, making it private will put obstacles to your strategy. Indeed, the search engines will not index it, so you won't appear on search engines with this content.
9. Be careful with your internal linking
Another thing that you should pay attention to is to your internal linking. HubSpot provides you with CTA buttons. They indeed generate greater conversions than a text link. However, don't mistake them for an internal link. Since they are coded in Javascript and not html, search engines don't consider them as internal links. Thus, make sure that your links are made correctly to indicate to search engines what content is related.
To help you, refer you to the topics in the SEO strategy tool. When a link is made from supporting content to pillar content, it will be turn into green, so that you can oversight that you are giving the right signals to the search engine.
Want to have a chat about your SEO? Then book a meeting with us, we'll discuss possibilities of improvements.