Improve your calling approach with Aircall and HubSpot integration
Wondering how you could help your sales team being even more efficient with HubSpot? How you can support better your calling strategy? Learn how Aircall can help you do that and what the integration Aircall-HubSpot can bring to your team in this article.

The challenge
If you're a company with a sales team working on HubSpot, you will probably be familiar with the HubSpot calling tool that is included in the Sales Hub features. Many sales organizations benefit from the calling tool as its allows to call contacts straight from the desktop as well as mobile app, with calls being logged automatically, together with the call outcomes, notes and even recordings.
For a lot of organizations, HubSpot's calling tool is already sufficient. However, being an organization with a larger sales or customer service team, your calling needs may not be covered with the existing feature.
Some limitations you may encounter are the fact that not all countries are supported by HubSpot's calling tool, and that each HubSpot-user has only a limited number of call hours available per month. Furthermore, it will not log unanswered inbound calls nor does it allow for incoming calls being routed to a sales rep or service agent that is available. These are some functionalities that you may require when calling is an important part of your daily sales & service activities.
If this resonates with you, consider looking into a Computer Telephony Integration (CTI) that integrates with HubSpot.
A CTI-system ensures that telephones and computers work together seamlessly. Users can make outbound and inbound calls, but usually also perform other call-related tasks directly from their laptop, desktop, or mobile device.
About Aircall
Aircall is a provider of CTI software, focusing on an intuitive interface and modern design, enabling users to learn working with the tool quickly. Besides that, Aircall ensures great call quality as it has strong back-end connections to their voice carriers.
And for the HubSpot users among you, the HubSpot-Aircall integration is set-up in no more than 4 clicks!
Some important features of Aircall are:
Toll-free & international numbers: You can instantly create toll-free and local numbers for both inbound and outbound calling in 100+ countries.
Call conferencing: Host collaborative conversations with a total of five people in the same live conference call.
Call routing: Map out a route that incoming calls will follow based on your agents' availability, to ensure that much less calls stay unanswered.
Interactive Voice Response (IVR): Interactive Voice Response systems are used to automatically route callers to the right people at your organization, usually based on which option they select in the menu.
Call collaboration: you can have a shared contact list & inbox, assign other reps to a call through warm transfer, and comment on the call outcome.
Call recording: Calls can be recorded to coach reps and ensure call quality.
Calling analytics: You can monitor the performance of your individual agents or of your teams, and filter the available call center metrics in order to find patterns and help reps make better calls.
Aircall's pricing is either €30 or €50 per user per month, depending on the features and capacity you require.
Call routing example: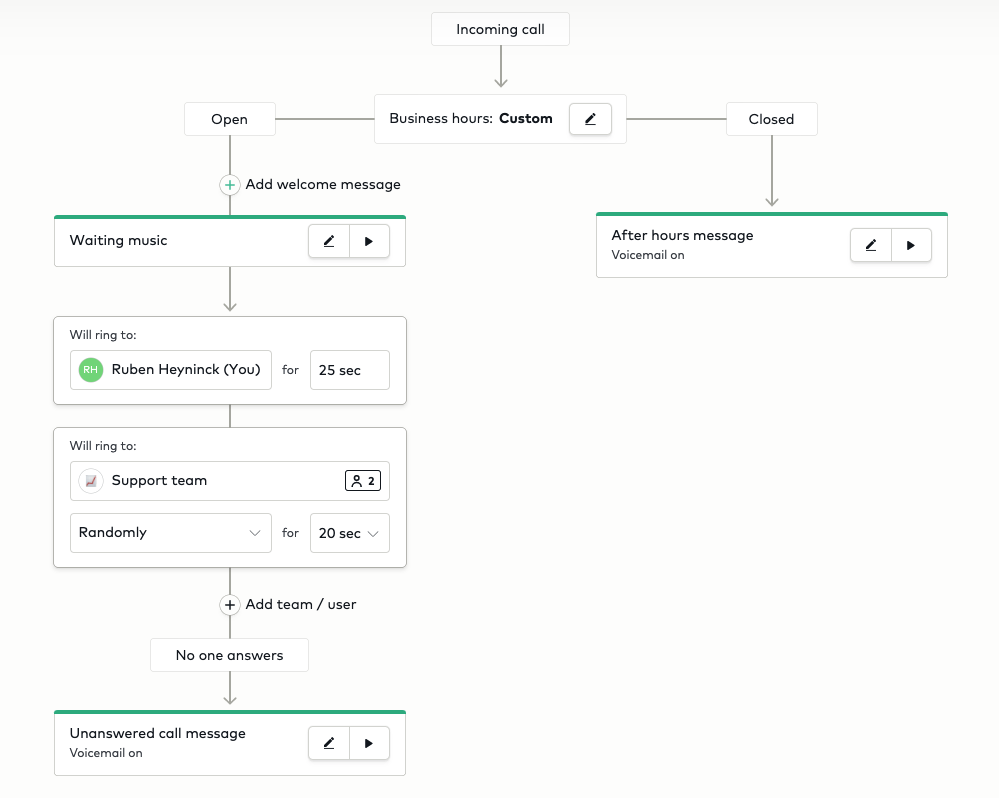 Call analytics example: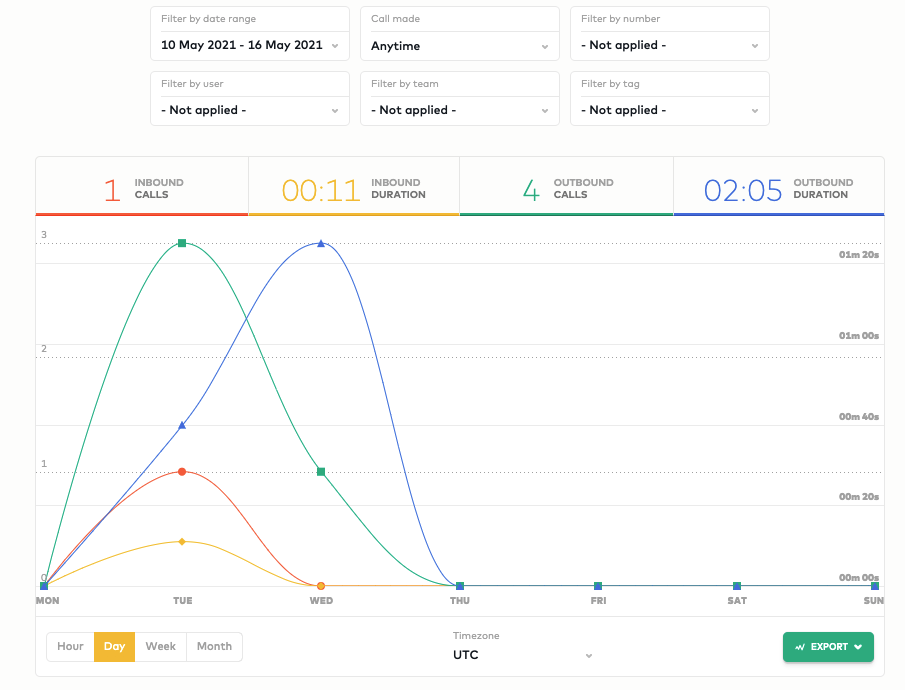 Request your free trial to Aircall here!
Aircall & HubSpot integration
If you're a HubSpot-user with several sales reps and/or service agents that call often but you are lacking visibility on those calls, Aircall and its integration with HubSpot may be worth looking into for your.
Since Aircall offers a native integration with HubSpot - which is very easy and fast to set up-, you can ensure that your call data is stored in HubSpot without having to ask your reps to manually enter this.
So, what exactly can you do with this integration?
When you're being called on an Aircall-number by a HubSpot contact, an Insight Card with contact information will automatically appear on your Aircall-screen, allowing you to directly click through to the HubSpot contact record.
You are able to directly call contacts (click-to-dial) from within HubSpot by clicking on Aircall's call icon that is displayed next to telephone numbers in HubSpot. This saves time as your agents will not have to switch between tools to make calls.
Aircall calls are automatically logged to HubSpot, covering all ingoing and outgoing calls as well as voicemails and missed calls and storing the right 'call outcome' without any manual data entry being required.
This information is then synced to all associated objects in HubSpot, such as contacts, companies or deals. Moreover, tags that were selected or notes taken during the call in the Aircall-app, will also be synced to those objects.
Aircall data that is stored in HubSpot (e.g. call outcome, call timestamp, tags) can be used for reporting purposes. Combining this with other contact and activity data in HubSpot, it can be a powerful tool for following-up on contacts or coaching your reps.
You can set-up the integration to automatically create tickets in HubSpot based on the call outcome (missed inbound call, outbound unanswered call, …) and choose which ticketing pipeline stage you want this ticket created in.
Finally, it is also possible to create workflows based on the available Aircall-date in HubSpot. For example, if you had a prospecting call with a lead that was interested, you could select a tag 'interest' and use this as an enrollment trigger to automate a follow-up mail with more information.
Aircall events are automatically stored on the HubSpot contact record: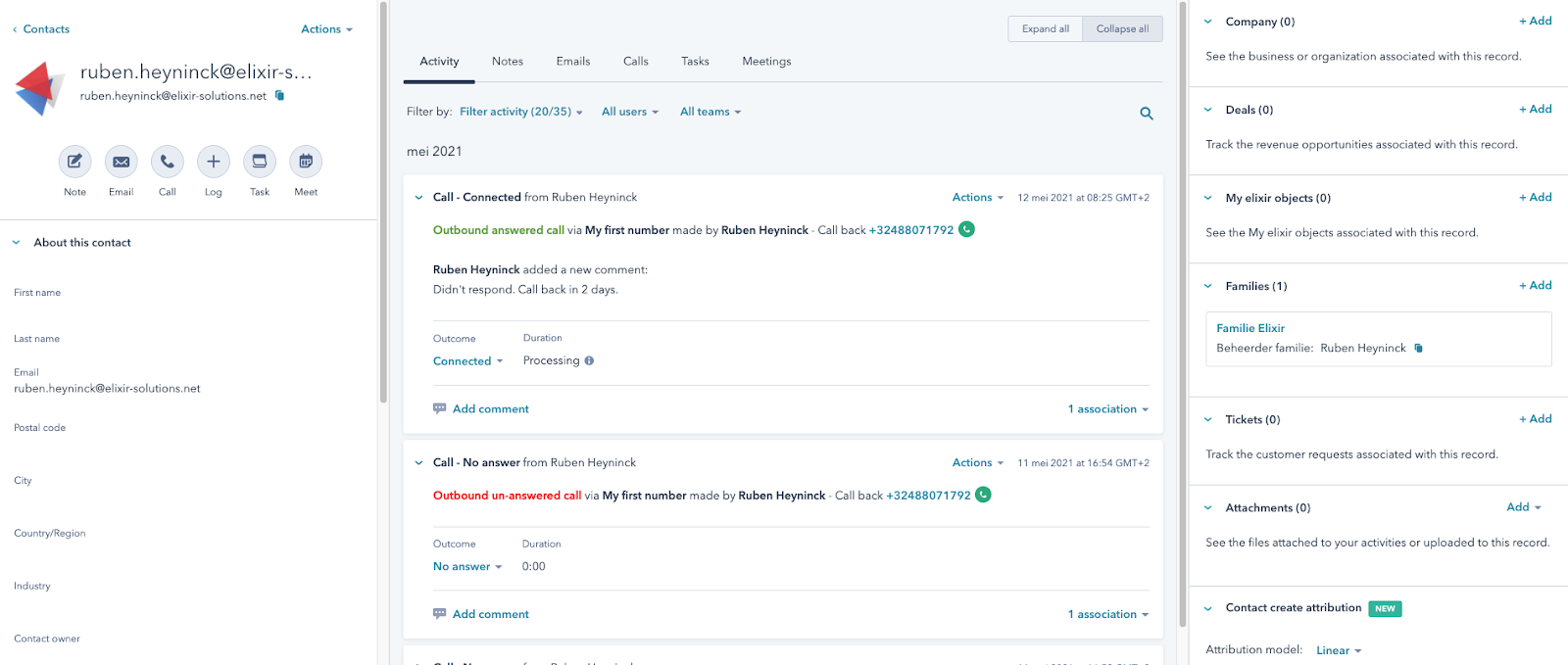 Aircall data can be used to create workflows in HubSpot: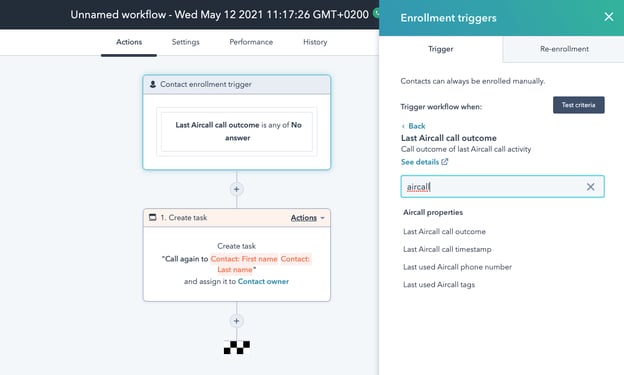 Want to test Aircall? Get your free trial here!