Navigating the calling solutions for HubSpot: the story of Lokabox
Lokabox is a company that rents self-storage spaces in Belgium, but also internationally. Their sales team is doing inside sales, from home or the office. Calling (both inbound as well as outbound) is an important part of their activities. In order to call efficiently and do as much calls as possible, they want to reduce the time to conduct administrative steps in the system, like:
Dialing;
Logging calls;
Creating contacts in HubSpot in case a of inbound call from unknown contact;
Taking calls;
…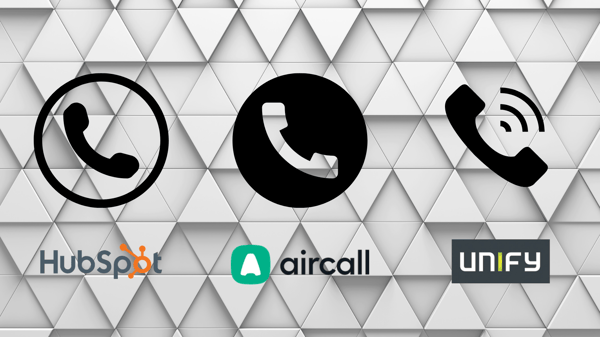 The obvious calling functionalities
Our first proposition was, of course, to consider the standard calling functionality of Hubspot or using a tool like Aircall that natively integrates with HubSpot.
HubSpot calling tool
The HubSpot calling tool is great for sales teams making outbound calls. It allows you to call your contacts directly from HubSpot, to record the call (with or without transcript), and it puts the call activity directly on the record's timeline. This functionality also ties in nicely with the HubSpot features like workflows, reporting, etc.
However, for our customer it had some restrictions, like:
Does not support inbound calling, queuing and distribution of calls to agents
There are limitations in the number of minutes you can call (dependent on your contract)
….
Aircall
A good alternative is Aircall . This is an SaaS calling solution that integrates very well with HubSpot. It has following advantages over the standard HubSpot tool:
Supports also incoming call functionality:

Contact and related info is displayed for incoming calls;
Click-to-call functionality;
Interactive Voice response (IVR);

Call queues;
Real-time call metrics of the entire team.
Download the HubSpot one-pager for free.
The choice of the customer
However, the customer had already invested in another telephony tool from Siemens, Unify, in combination with a desktop based tool called Procall. The company finally decided to stick with the Siemens solution, and asked Elixir to build a specific integration with HubSpot.
Integrating Unify with HubSpot
At first sight, this seemed not so easy to do. However, after some analysis, we could come up with an approach that fitted the needs of the client perfectly by providing following (rather basic) functionalities:
Outbound calling with logging of call activity in HubSpot;
Inbound calling with:

Looking up of contact based on phone number and logging of call activity in HubSpot (if it is a call with a known number);
Creation of new contact and logging of call activity in HubSpot (if incoming phone number is unknown).
Below, an example of a phone call activity resulting from an incoming call:
Take aways from the story of Lokabox
This case is interesting because it shows different possibilities of calling functionalities that adapt with HubSpot.
We have the HubSpot included functionalities, which gives basic possibilities, but with which you can be limited;
Aircall, that integrates with HubSpot, which offers more advanced functionalities;
The custom integration with a solution, which can be good if you have a solution that fits your needs and that you would want to use with HubSpot.