HubSpot Ecommerce integrations
Platforms like Shopify, SAP Commerce Cloud, WooCommerce, PrestaShop, and Magento offer the convenience of setting up an online store, BUT they often fall short in providing comprehensive insights into sales and marketing. Additionally, achieving a personalized customer experience and efficient marketing automation can be a daunting task.
In this blogpost we go in dept on how E-commerce businesses can leverage the HubSpot E-commerce integration with their online store & revolutionize your business, from personalizing customer experiences to achieving marketing and sales success.
Table of contents
Why HubSPot for E-commerce? Adressing the gaps
Overview E-commerce platforms that HubSpot Integrates with
Why HubSpot for E-commerce: Addressing the Gaps
# Closing the Insights Gap:
Many E-commerce platforms offer limited insights into your sales and marketing efforts. You may find yourself juggling multiple tools and apps to get a holistic view of your business. HubSpot gives data-driven insights with attribution, customer journey reporting & even offers the possibility to create custom reports on your customer & marketing/sales efforts.
# Empowering Personalization:
Personalizing the customer experience is crucial, but many platforms lack the necessary features. With HubSpot you can use customer data to create personalized marketing campaigns. From email workflows to targeted ads and social media posts, you can tailor your approach to each individual customer.
# Marketing Automation Made Easy:
Effective marketing automation is essential to engage and retain customers, but it's often an afterthought. Say goodbye to complex marketing automation, and let HubSpot's all-in-one tool work its magic.

Source: https://www.forbes.com/advisor/business/ecommerce-statistics/
HubSpot Ecommerce Integration
Enter HubSpot, a powerhouse in the world of inbound marketing and customer relationship management (CRM). With HubSpot's E-commerce integration, you can seamlessly connect your online store, regardless of the platform you use, to HubSpot CRM. This integration is a game-changer, as it allows you to tackle all your challenges within one unified system.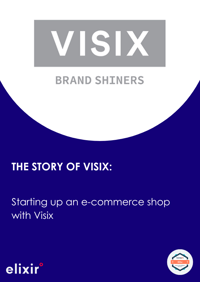 Overview E-commerce PLatforms that hubspot integrates with
Shopify: Elevating Front-Office Excellence
Shopify is renowned for its user-friendly front-end interface, making it a top choice for online store creation. By integrating with HubSpot, you leverage the best of both worlds. While Shopify excels in the front office, HubSpot empowers you with robust marketing and sales tools. Together, you gain a comprehensive view of customer data, enhancing personalization and customer engagement. The result? Streamlined operations and growth-driven strategies.
→ learn more HERE about the HubSpot-Shopify integration
SAP Commerce Cloud: The Enterprise's Ally
For larger enterprises, SAP Commerce Cloud is the go-to choice. It offers scalability and flexibility to meet complex business needs. By integrating SAP Commerce Cloud with HubSpot, you bridge the gap between front-end customer interactions and back-end data management. This synergy allows for precise data synchronization, giving you a holistic view of customer journeys and enabling effective marketing automation.

Other platforms
Woocommerce
PrestaShop
Magento
Key Features of Hubspot crm
Increase Average Order Value (AOV) and Retention:

HubSpot's E-commerce integration empowers you to offer a more personalized shopping experience, enticing customers to spend more. By understanding your customers' preferences and behavior, you can upsell and cross-sell effectively.

Abandoned Cart Recovery: Set up abandoned cart workflows to automatically send reminder emails to customers who've left items in their shopping cart. Recover potentially lost sales effortlessly.
Marketing and Sales Integration: HubSpot integrates marketing, sales, and service functions, making it a one-stop solution for your E-commerce needs.
Customer Journey Alignment:

Track customer behavior on your website and use this data to align their journey with your marketing efforts. Provide a seamless, personalized experience.

Reporting Automation: Create custom reports and dashboards to track your sales and marketing performance. HubSpot's reporting capabilities make it easy to measure your ROI and optimize your strategies.
Conclusion
For founders and owners of E-commerce businesses, the journey to success can be streamlined and more effective with HubSpot's E-commerce integration. Say goodbye to fragmented insights, impersonal customer experiences, and complex marketing automation. Embrace a solution that brings everything together seamlessly, making your ecommerce venture not only more profitable but also more enjoyable.
Elixir: Partner with Elixir to integrate your ecommerce store with HubSpot CRM. Overcome the challenges of marketing, sales, service, and reporting automation, all within the HubSpot ecosystem.
By choosing HubSpot and Elixir, you're not just improving your business; you're future-proofing it. With the power of personalized customer experiences, aligned customer journeys, and robust marketing automation, your ecommerce business can reach new heights.