Tips and tricks to create a multilingual website with Hub CMS
Number of organisations have to do business in different areas of the world (or even country, if you're Belgian as I do). Therefore, they have a website in multiple languages. In this article, we'll go over the multilingual possibilities of HubSpot CMS.
If you want to migrate your website on HubSpot CMS, or simply want to start with HubSpot CMS in different languages, check out our tips!
Website, landing pages and blogs - create variations of the page
HubSpot enables you to create very easily a translation for your website pages, landing pages and blogs. All you have to do is to indicate the main language of your website. Once that is done, you can easily create a variation of the page and select the language for it.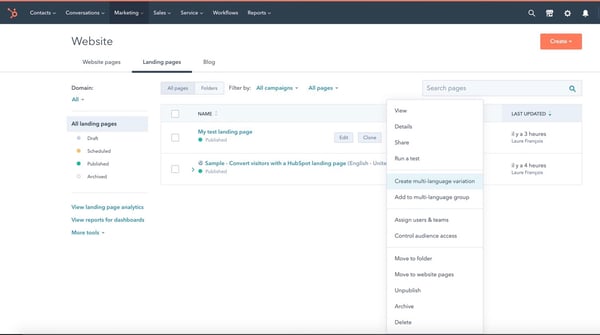 Create different marketing strategies per language
Let's take an example. Imagine that you're communicating to different countries. There might be divergences in the interest of the people. You might for example need to bid on different topics on Google Ads in order to touch your audience. In this case, you might want to create one landing page that doesn't have any translation in the other languages. This isn't possible as such. What you can do is you can create a page in draft and assign a translation to it. This way, you can still put your strategy in place.
Put the language switcher in your template
The language switcher has to be put in the template of your website, landing page or blog thanks to a module. This will help visitors choosing themselves the language they want to visit your website in.
Choose wisely between subdirectory and subdomain?
In all of those cases (except for smart content), your content will be hosted in another part of your domain. You now have to choose between different options of places. You probably have seen different ways to see the language in the url : www.domain.en (code TLD) or en.domain.com (subdomain) or even www.domain.com/en (subdirectory). Everything is possible if you have all of the suite of HubSpot CMS. But how to choose?
code TLD: This allows you to indicate upfront the language of the website. It is so much clear that it is a very good option if you want to target languages. The downside is that it doesn't take regions into account. Where here you can only indicate "en", in the other options, you can put "en-au" and target a specific area.

Subdomain: This is the least recommended option. Indeed, it allows you to indicate the region, but it indicates to search engines that it is another entity of your website. Search engines are able to understand you intent and your structure, but still, in general we see that subdomains are performing lower that subdirectories.

Subdirectory: It gives you the flexibility to indicate that you're targeting a region and a language. Plus, it indicates that it is part of the same entity as the other translations.
Alternative - the use of smart content
An alternative to those ways to do multilingual on your HubSpot CMS is the use of smart content. By using smart content, you can update the different text areas of your pages according to the visitor's language. This is detected in their browser or IP address. Without creating different pages, you can thus adapt the content of your website to match the preferences of your visitor. This helps providing a personalized experience on your website.
Chose your level of personalization: language or language and region?
The options linked to languages are legion. The main question to ask yourself is: do I want to target a language or a region? In the first scenario, you will choose, for example, "French". In the second, you'll be able to choose "French-Canada". This enables you to create a variation of your website adapted to the cultural and linguistic differences of the regions.
Want help building your website in HubSpot CMS? We can help you! Check out all our Hub CMS services.