Elixir Solutions was at Solvay MBA Alumni!
On Thursday February 20th, we were invited by Solvay MBA Alumni to do a presentation. We picked up our favorite topic: The path to become an Experience Disruptor! The crowd brought up very interesting questions, making this whole experience very enjoyable.
Here is an idea of the agenda of the event: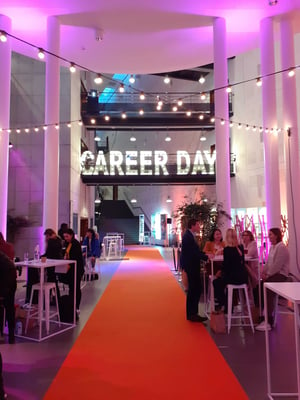 5:00 - Getting started on the road to go to Solvay from our offices near the central station to the ULB Solbosh campus.
5:45 - We arrive at Solvay and notice that it was Solvay Career Days! This gave us the opportunity to grab a drink and discuss with students about their future and what we are doing.
6:30 - We meet with the organizers of the alumni event. And the audience begins to arrive. Getting to know the people before starting with the presentation. The Solvay MBA alumni are organizing such events every weeks.
7:00 - The talk. "The Path to become an experience disruptor."
8:00 - Walking diner.
What is an experience disruptor?
Companies that are growing fast today, like Tesla, Netflix or Zalando share the same characteristics. What makes them special? That's the question that was asked this day.
They are Experience Disruptors. They don't offer a revolutionary product. They are selling products and services that existed already : cars, even electric cars, movies, garments. But their selling it in such a way that customers chose them over the traditional players. Because of the experience that they have in their interactions with those companies.

Customer experience
The goal of an experience disruptor is to provide a great customer experience. It is the principal element of how they operate. Very important to remember.
Flywheel approach
Versus the traditional funnel approach, the flywheel approach consists into putting the customer at the center of all of the actions. Seeing the customer not as an end to the efforts but has the center of all of their actions is really something that makes them apart.
In order to achieve that, all of the customer-facing departments have to work together.
Friction
Another big element of this is that experience disruptors are trying to remove all of the elements that are obstacles for customers to have a great experience. Those are called friction, because it impeaches the flywheel to spin.
How to become one?
Now, if you want to become an Experience Disruptor yourself, what should you be doing? The first thing to do is to build your persona and then map its journey with your organization. Then, try to find the points of friction and force, and take action on it!
Thanks to technology, you have the ways to align your teams and make them work together. And that gives you the means to focus on customer experience.
Speaking at Solvay MBA was a great experience. We had a great time and hope to do it again soon!
Want to do a workshop to become an experience disruptor? Download our templates :