Case Study: Smarketing-focused HubSpot Integrations result in more bookings at ETG
At Elixir Solutions, we are particularly proud of our most challenging missions. For ExperienceTravelGroup, we enabled a data-driven marketing approach by leveraging massive amounts of data coming from their back-end booking system.

CONTEXT
ExperienceTravelGroup is a tour operator creating trips in Asia for demanding travelers. Their entire business operation runs on Axum, an industry-specific quotation tool that keeps information on customers, enquiries, quotes and bookings. It serves as the transactional system of ETG.
With many adventures to tell and tailor-made experiences for each client, the inbound methodology was a natural fit to share ETG's stories in order to attract and convert potential customers.
CHALLENGES
Loyalty is of huge importance in the travel industry.
For a company like ETG, communicating to prospects and customers is useless without leveraging information from the back-end system. How many trips did they book already, what is their travel style, for which trips did we already made an offer?
Because they wouldn't want to book the same book twice, history of bookings is a fundamental information, along with any linked data like family structure, preferences...
But new leads also matter!
At the moment of converting, sales agents need to contact prospects immediately, and to interact based on what drew the customer and his persona. Success rates are proven to be 30% higher when the contact is approached immediately. Therefore, speed is a decisive factor: A conversion must show immediate information to the back office and trigger a task. In short, integrating the marketing front end with the sales back-end was of crucial importance to ETG.
SOLUTION
In order to have a positive marketing ROI, ETG needed to connect HubSpot and Axum. Not just a unidirectional data dump, but a tight and bidirectional integration that synchronizes customers, enquiries, quotations and bookings.
ElixirSync made use of a plethora of HubSpot API (Contact API, List API, deals API, webhooks API,...) to allow for specific features:
Newsletter use personalized tokens based on custom fields coming (or calculated) from the CRM system
Targeted upselling campaigns based on previous bookings and preferences.
Campaigns based on booked trips, as to inform and delight customers and turn them into brand promoters
In other words, ElixirSync was built around Smarketing principles, and ETG's customers' journeys: not the other way around. A particularly daunting task because Axum's API has an uncommon data structure and about 50 fields in Deals and Contact information, most of which were custom in both systems.
FEATURES
Data-driven marketing
Data from Axum is leveraged for informed and data-driven marketing campaigns. 150.000 contacts are synced with specific rules, filters and business logic. The results display in relatively simple attributes in HubSpot, and ready for use in lead generation campaigns. This allows for complex workflows to be processed on a very high volume of data.
On top of this bidirectional contact sync, HubSpot campaigns are also driven by booking and quote information (using HubSpot deals). For example, after proposals are accepted by a lead and turn into bookings, these customers don't receive automatic marketing mails for other trips for a certain period.
Webhooks for quick and efficient reaction
The Sales consultant in the back-office is immediately informed and assigned when a conversion occurs. Using a webhook, ElixirSync immediately creates an enquiry in the back-end system, so sales people can contact the prospect immediately. That way, new leads are reached in a matter of seconds. Bookings are turned into deals in HubSpot and linked to one or more contacts. Finally, the lifecycle stage of contacts is updated as the enquiry turns into a quote and potentially a booking in the Axum system based on a custom determination logic.
... and an outbound approach to delight customers:
But the advantages of syncing enquiries don't stop there. In the travel industry, a continuous follow-up is essential. Several outbound approaches, based on the buyer's journey, were setup in HubSpot around key moments to provide an optimal customer experience:
Practical arrangements are made a few weeks in advance;

Last tips are sent a few days before the departure;

A feedback is needed shortly after the trip;

And after several months, the agency starts enticing them for new destinations based on previous bookings and preferences.
In total, there are more than 200 automated emails that are sent everyday to tailor communication to each traveler, turning them into brand ambassadors.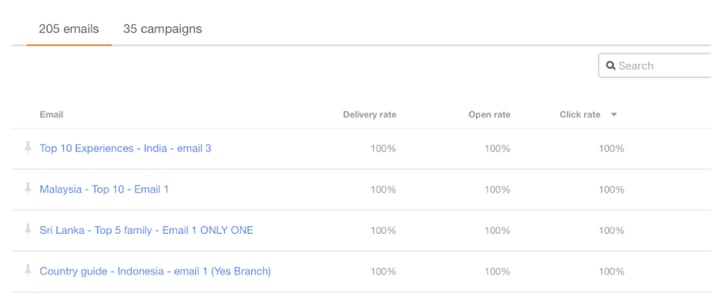 Of course, this relies beforehand on intricate workflows such as this (mind the headache!) :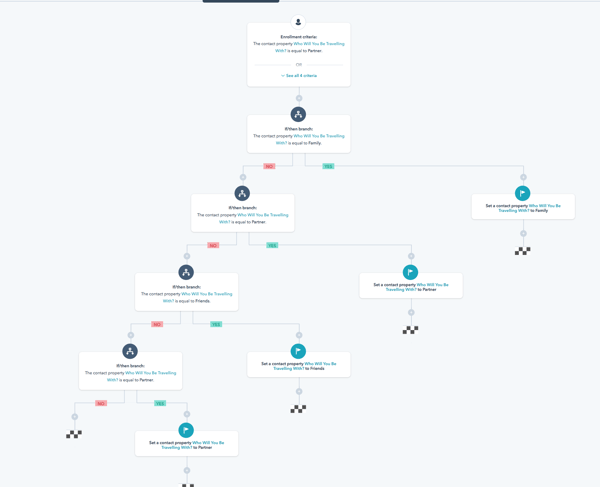 There are nearly 250 workflows that ExperienceTravelGroup uses in nearly 200 lists to target their campaigns.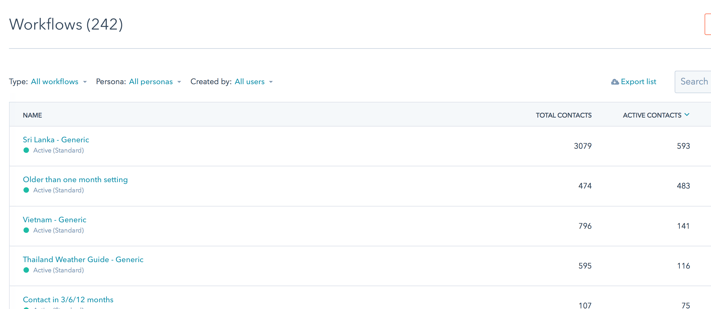 RESULTS
- Marketing Campaign reports and profitability of HubSpot is clearly measured.


- Most of their emails have a good CTR and open rates as you can see below: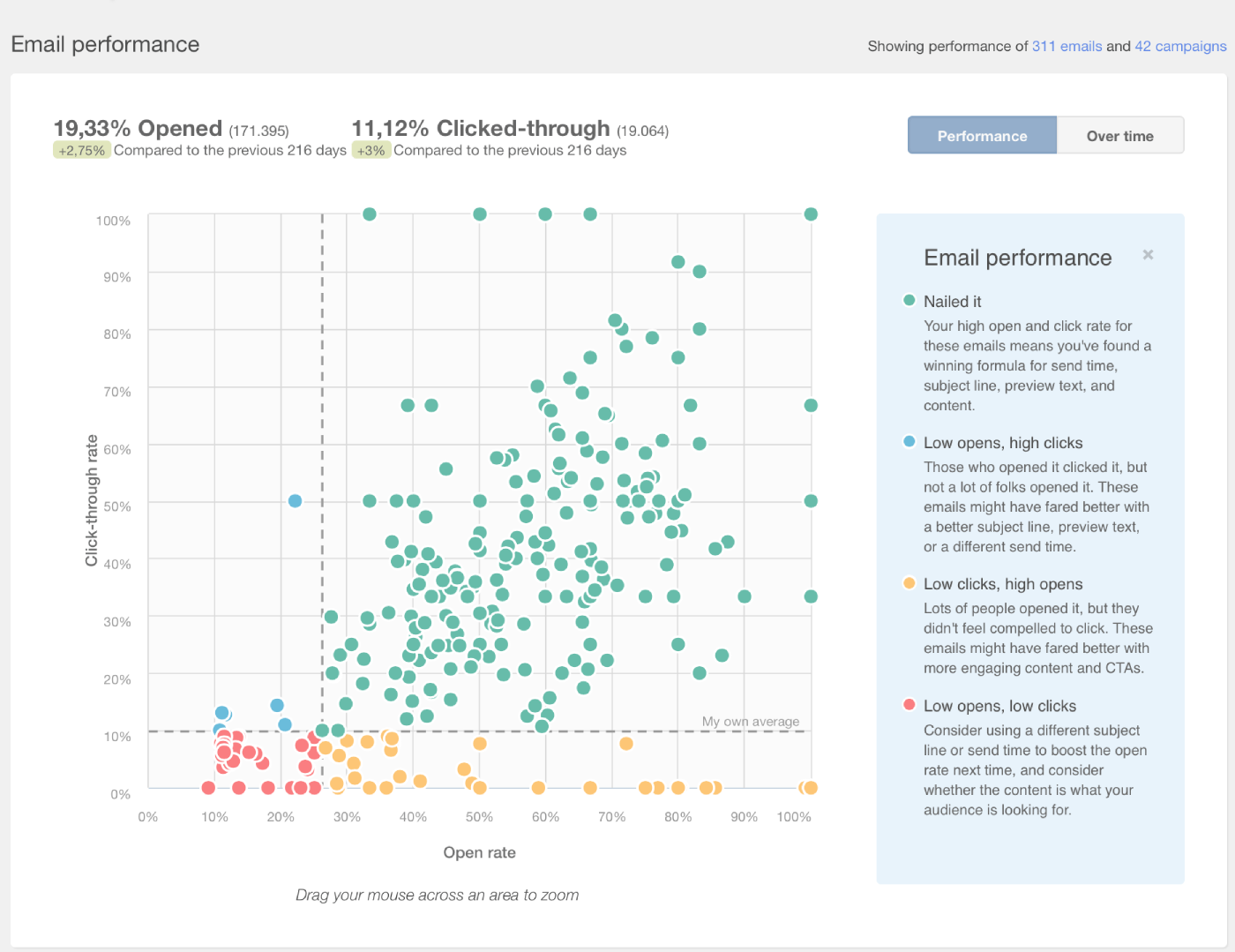 This HubSpot integration and custom criteria allowed ETG to streamline their operations, and focus their energy on providing travel expertise. After a few months, results are showing.
WHAT ETG SAYS ABOUT ELIXIRSYNC:
Not long after the solution deployed, a surprise arrived at our office: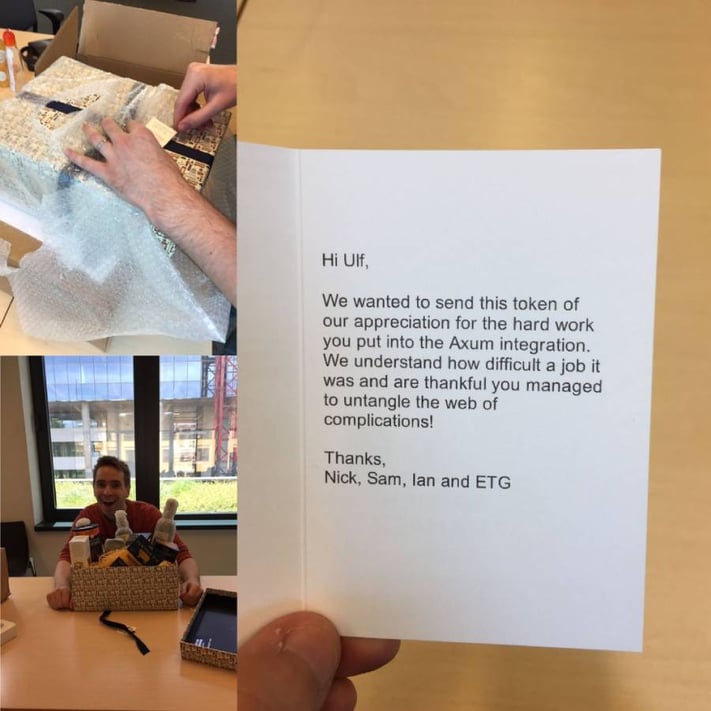 Looking back at this project, Nick Clark,Head of Travel at ETG, had this to say:
" The biggest win we have had from this Hubspot integration is being able to track visitors from the moment they first make contact with us, until the moment that they book so we can now see the full journey and without the integration, that would not have been possible."
Today, ETG operations run seamlessly - Elixir Solutions' developers are rewarded for their hard work - and customers are enjoying their holidays (Follow @ExpTrav if you don't believe us!).
---

Are you interested in aligning your Marketing, Sales and Service teams? Check out this e-book and discover why and how you can do it.