[Infographic] In 2021, I'll deliver a personalized service experience
In 2021, you should improve your customer service experience. Why? Because consumers have higher customer service expectations than one year ago. We explain why good customer service is important and what you could do to make your customer service more personalized.
Your customer service team is important
Some companies put marketing and sales before service, but it's wrong to think like this. Your customer service team should be just as important - if not more important - than your marketing and sales teams.
Not convinced yet? Read the following to understand how important customer service is if you want to grow your business.
Why is customer service important?
According to HubSpot, customer service is important because it retains customers customers and extracts more value from them.
Download our free one-pager: HubSpot Growth Suite
Customer Service Statistics
Our infographic gives a good overview on customer service statistics your should know.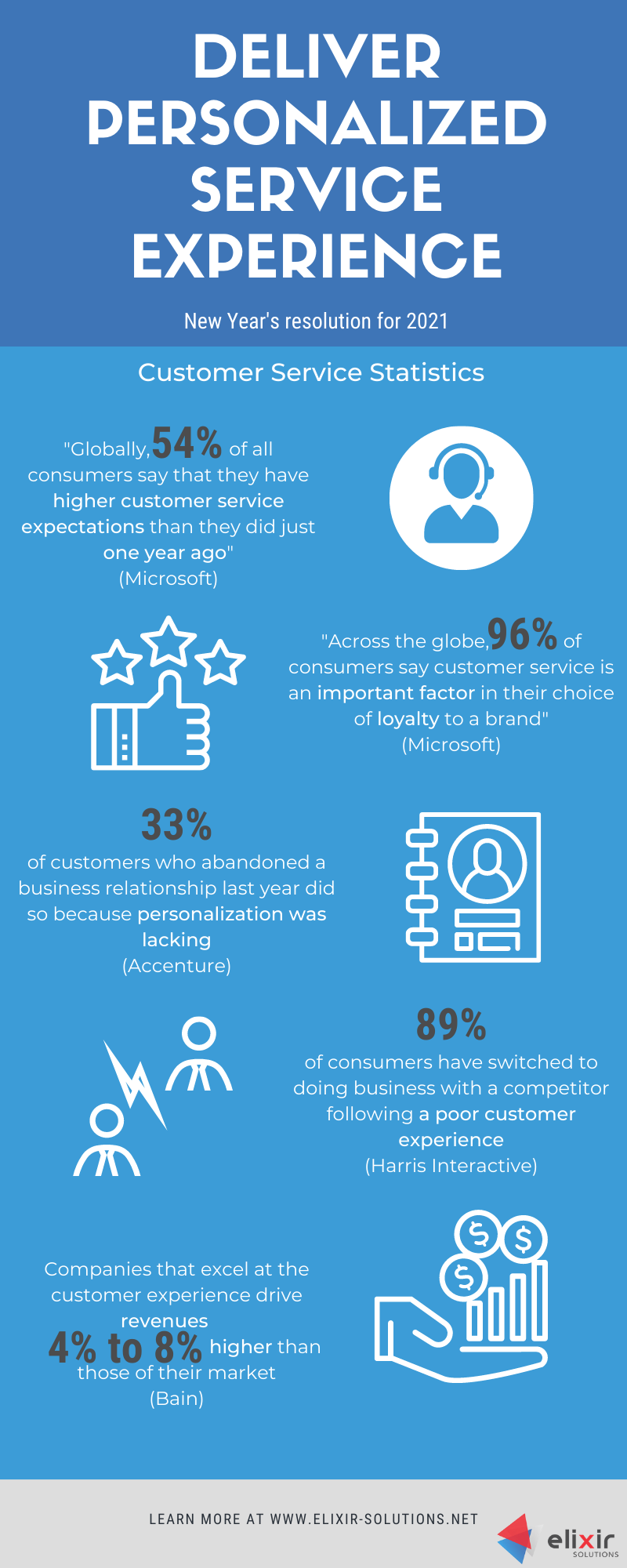 Other important reasons why you should invest in your customer service team:
Loyal customers are more likely to spend more (67%); customer retention is cheaper than customer acquisition
Happy customers share their positieve experiences with friends, on their social media, on your company page
Customers are willing to pay more to companies that offer better customer service
Proactive customer service can create marketing opportunities
It helps increase your customer lifetime value (CLV)
Personalized service experience
33% of customers abandoned a business relationship because personalization was lacking (Accenture).

According to Forrester, 77% of consumers have chosen, recommended, or paid more for a brand that provides a personalized service or experience.
It's a necessity that your customers experience a personalized approach. When you give a personalized customer service, your business will profit from this; increasing customer satisfaction, engagement, loyalty and revenue. Today, personalization can give your company a competitive edge.
How to improve your customer service experience
Here are successful ways you can deliver a more personalized experience to your customer:
Address customers by their name. Make sure your service team knows to which person they're speaking to, across different channels.
Recognize & reward their loyalty.
Offer several customer service channels; e-mail, telephone, Facebook Messenger, Twitter, live chat on your website, etc.
Use your customer data. Consumers are more likely to buy something when your system recognizes their name, recommendations based on previous purchases, purchase history, etc.
Train your customer service agents. Use a personal tone when it's appropriate to do this.