Velux series: 5 short stories
Velux is an international producer and vendor of windows. They sell windows to consumers through resellers and installers. The company was founded in 1941 in Denmark, with the idea of turning attics into liveable spaces. Today they are an international company with a presence in over 40 countries.
Velux came to us because they had some concerns regarding their customer experience. And this is how the partnership between Elixir Solutions and Velux was founded. Over the years, we've had the opportunity to work with their different departments, and each time it was for technically complex projects.
They see us as the go-to partner when it comes to complex and custom HubSpot integrations. Since 2016, we have worked on 5 projects with them. Here we give you a short summary of those projects.
1. Sending one app's data to 15 HubSpot portals
In 2016 Velux launched Velux Daylight. An app that would show users, how a Velux window would appear in their house, by using augmented reality. Since this was a great way to collect data from users of the app, the contact data had to be redirected to the right Marketing team. This was not an easy thing to do. In particular, because Velux has 15 marketing teams, each one of them in charge of a different region. And each of those teams was working on a different HubSpot portal.
We integrated this app with the 15 HubSpot portals, using the Azure database of the app. Read the complete story here. And watch the short video of our solution.
2. Integrating HubSpot and SAP C4C with a high level of security
Velux Modular Skylight, a department of Velux, needed to automate the handover of leads between the marketing and sales teams. While marketing worked on HubSpot, the other teams worked on SAP C4C.
Thus, the technology needed to be integrated and the teams aligned. This also required a certain level of security that other integration providers failed to reach. This is why they called Elixir Solutions. We successfully integrated HubSpot and SAP C4C, with the level of security that was required. Watch the short video of our solution. And read the full story here.
3. Integrating HubSpot with Google BigQuery
To be able to deliver a great experience to their website visitors and contacts, it was essential to have a view of the full buyer's journey. That can be difficult if different tools are used to collect data. Velux used Sitecore as their CMS, and HubSpot was used to handle the commercial operations. To have a full view of the buyer's journey, all tracking data needed to be sent to a centralized place.
They had more than 300 websites on Sitecore and 15 on HubSpot. Sitecore and HubSpot used different methods to track visitors: the Sitecore websites used a 3rd party cookie, while the 15 websites on HubSpot were using the HubSpot cookies.
That caused troubles for reporting: when a visitor went from one website on Sitecore to a website on HubSpot, they weren't recognized as the same user and the buyer's journey was incomplete.
We ran a technical assessment on how to align those buyer's journeys and report more easily. The solution that we came up with was having the reporting in Google BigQuery. The information of the Sitecore websites would be collected in HubSpot to enrich the contact interactions and the website analytics. Then this data would be sent to the BigQuery data lake so that the reporting could take place there.
When a new contact is registered in HubSpot, the data is sent to BigQuery. And when the contact is deleted, the deletion happens in BigQuery as well.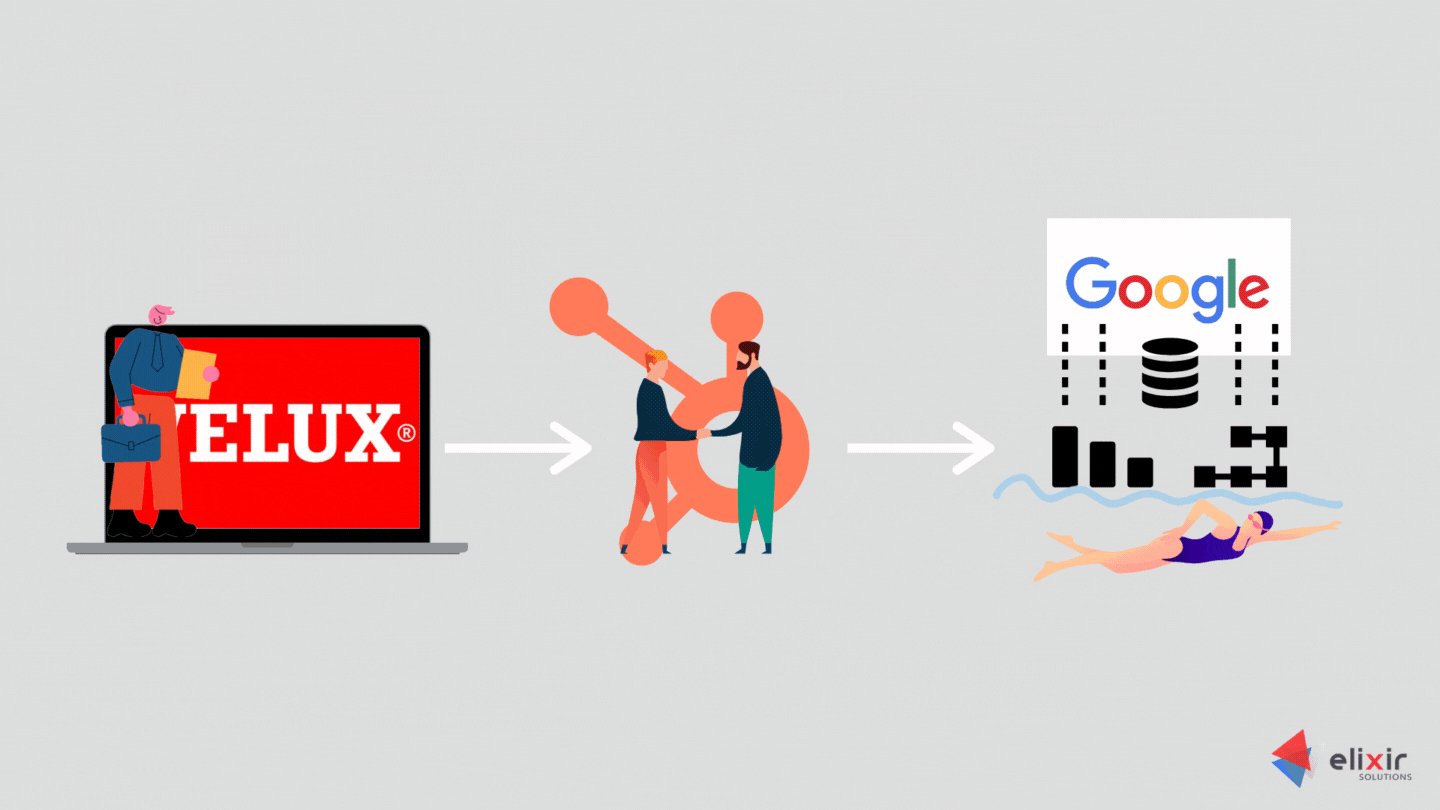 4. Integrating Google BigQuery to HubSpot
One of the ways Velux sells its products is through partners. To handle the relationships with them, Velux uses Qwasi. It's an external tool, to manage the rewarding program for partners. However, the team in charge of the rewarding program was using HubSpot.
As Qwasi was already integrated with BigQuery. What was missing was an integration that would send data from Bigquery to HubSpot. So that's what we did. The integration enabled Velux to send Marketing emails to the contacts collected in Qwasi.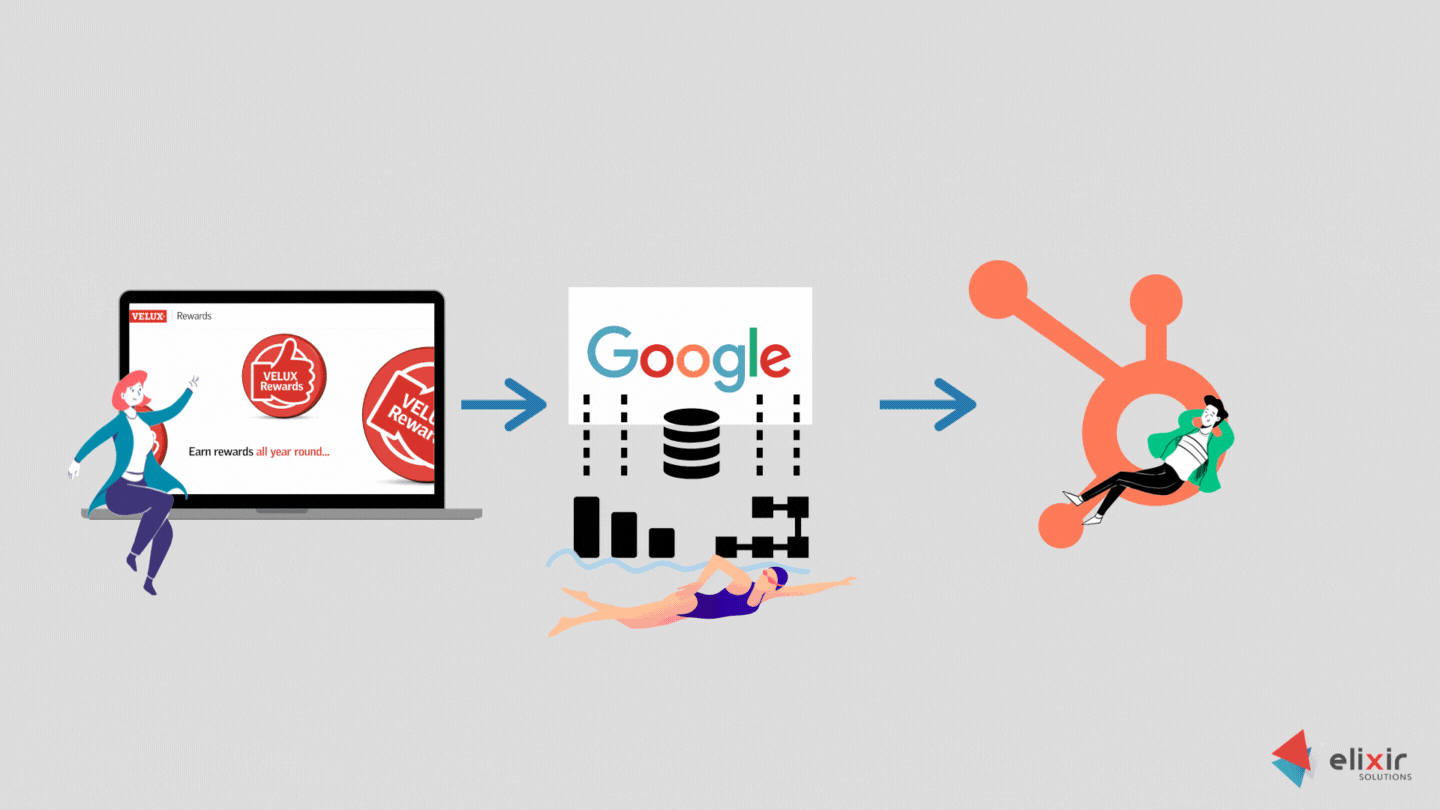 5. ContactPro
When searching for a window, someone might go on the Velux website. On the website, they can see the different models and fill out a configurator to get the product they want. Velux then gathers this information, but they still needed two things:
Send the information from the configurator from (Sitecore) to the marketing team (in HubSpot);
Velux doesn't install windows themselves so the information needed to be sent to the installers (on ContactPro).
Once the information is sent to the installer, the rest is in their hands.
In order to set that up, Velux asked Elixir Solutions to integrate HubSpot with ContactPro. And that's what we did! Below, a representation of the flow of data: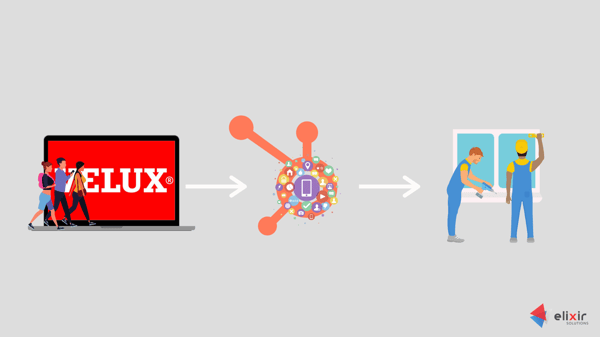 5 projects: all different, but with one thing in common
All of these projects have in common that they were complex, involving Hubspot and integrations. We successfully delivered all of those and enjoyed working on them a lot.
Fast and Professional
Very happy with the cooporation with Elixir around HubSpot. Dedicated and skilled team with a pro-active approach when solving problems and securing progress.
Thomas Melchior Jensen, Velux
If you want to discover more of our customer cases click here