SAP marketing cloud is going to sunset: What now?
Hard hit for the customers of SAP Marketing cloud, as SAP recently announced that they will sunset this product by 2026. Why? Well, SAP is very strong on the ERP market, but on the marketing side, their products are not as competitive. This resulted in lower than expected user adoption.
The Gartner's Magic quadrant for Multichannel Marketing hubs report of 2019 already mentioned that, while having a good implementation service, advanced analytics, and campaign implementation features, it still had some major flaws:
Absence of Social media features, both ads and organic;
Weakness in web analytics, content management and email marketing;
The product doesn't integrate well with the rest of the SAP products.
Those are big weaknesses that make the product unattractive in comparison with other solutions. We can see that in the fact that SAP Marketing cloud doesn't even make the 2021 version of the Magic Quadrant.
What can you do now that SAP is sunsetting its Marketing Cloud? SAP recently acquired Emarsys, but will this tool turn the tide for SAP in the marketing automation space? Currently, this tool still falls short in a number of ways, for example with regards to SAP integrations and functional coverage as it is essentially a B2C email marketing tool, primarily used for webshop campaigns.
At Elixir, we recommend our customers to use HubSpot's Marketing Hub. Why? The solution is user-friendly, supports really well Marketing teams and it can be integrated with other SAP tools.
Here are 4 reasons why you should consider HubSpot:
1) HubSpot is a top-player in Marketing Automation platforms;
2) HubSpot integrates with the SAP ecosystem;
3) HubSpot can support your marketing processes and more;
4) Your marketing team(s) will love it.
Discover more about each of those points in this blog post.
1) HubSpot is a Top-player in Marketing automation platforms
HubSpot was recognised as a Leader Marketing automation platform by Gartner in their 2021 Magic quadrant.
The reasons behind this choice include:
the user-friendliness of the tool: HubSpot is very easy to use and that is why the commercial teams love to use it.
the balance between "functionality, flexibility and extensibility": HubSpot is regularly implementing improvements and new features in the platform, making it more and more efficient.
the ecosystem of partners and integrations: HubSpot has a big ecosystem of partners, who can help customers in their implementation of HubSpot and their work with it. There are also a lot of integrations available with HubSpot.
2) HubSpot integrates with the SAP ecosystem
Your Sales, Service or Back-office teams are using other SAP systems? No worries, HubSpot can be integrated with SAP. Elixir has a lot of experience integrating HubSpot with different SAP tools : SAP ByDesign, SAP Business One, SAP S/4 HANA, SAP C/4 HANA, SAP ECC, SAP Hybris Commerce.
Here are the main use cases that you can cover with an integration between HubSpot and SAP:
With an integration with a CRM product of SAP, you can convert visitors in Hubspot and have the sales team work in SAP, then have your marketing team do upselling campaigns from HubSpot.
With an integration with an ERP product of SAP, you can take care of all the commercial activities in HubSpot while integrating master data and transactional data with SAP.



Want to know more about our SAP to HubSpot integrations? Watch our webinar on REPLAY below :
3) HubSpot can support all your marketing processes and more
Going from SAP Marketing Cloud to HubSpot, you will gain features to support the work of your marketing team(s).
Here is a non-exhaustive list of the features that HubSpot has and SAP Marketing Cloud doesn't, based on the feature scope of SAP Marketing cloud and on HubSpot's features list :
CMS : you can host your blog, landing pages and even your website. You can create your own templates, or access a large library of themes and templates to choose from.
SEO tool : you'll have on-page and domain recommendations on how to optimise your website, landing pages and blog for Search Engines. The SEO tool also comes with a planning tool that helps you structure your content.
Social media : In SAP Marketing cloud, you have some features to follow the results of your social media activities. In HubSpot, you can connect your social media pages and publish your posts. You can answer comment, tweet with your new followers, and, as in SAP, analyze the results of your actions.
Ads: like in SAP Marketing cloud, you have integrations with Google ads, Facebook ads and Linkedin ads, allowing you to create audiences, to see your campaigns and have analytics in HubSpot. A plus compared to SAP Marketing cloud: you can optimize campaigns from HubSpot.
Automation : You can use workflows to send your emails automatically, update a property based, create a task and so much more on the basis of triggers.
Images : on top of a content library where you can store your images (and other types of files), you can also create your visuals with Canva without leaving the platform. You can also choose pictures from the Shutterstock database for free.
GDPR tools: Set up your cookie banner consent in HubSpot. You can also collect GDPR consent in your forms, with a preference page and links in your email footers. This updates automatically your contacts and makes sure that your respect their consent when sending out emails.
Chat : You can have a live chat or a chat bot on your website and manage it in HubSpot. You can also connect your team email addresses to have your inbox in HubSpot, allowing you to discuss with your audience.
Web Analytics : Track your website with HubSpot and collect informations on the behaviour of your contacts : which pages they visited, which buttons they clicked, form submissions... And keep following them through their journey : did they open an email, did they click on an ad...
ABM tools : HubSpot comes with Tools specifically designed to help you set up an Account-Based Marketing strategy and campaigns.
Integrate HubSpot with a lot of tools such as GoToWebinar, Eventbrite, Wordpress, Zoominfo, Slack etc.
There are also features that you have now in SAP Marketing cloud and that you will find back in HubSpot : Contact segmentation, Lead qualification and management, Lead scoring, Campaign analytics, Landing pages, Forms, Emails...
As you can see, most areas of the digital activities of a Marketing Team are covered by HubSpot. That is beneficial because you can do everything from the same place and don't have to jump into multiple tools to finish a simple task. The tool is also super user-friendly, which is a big perk.
4) Your marketing team(s) will love it
It is really important to choose a tool that your teams will use and love. This boosts their efficiency. Like 150 000+ companies, your marketing team(s) will appreciate HubSpot for its user-friendliness and functionalities which will empower them and your business. Coming from using SAP Marketing Cloud, they will see how different the tools are and how much they can do with HubSpot.
We know from experience that marketing teams that were working on SAP find HubSpot better. With Bosch Rexroth, we replaced SAP Hybrid Marketing cloud with HubSpot Marketing HUB, and they are very satisfied by it. Check out a story on a project we made for them here.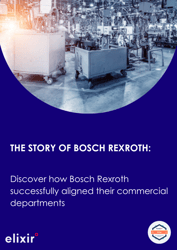 Start planning it now
Since the announcement of SAP Marketing Cloud going to sunset, Marketing teams have to think about what they will do to replace it. Now is a good time to start planning this change. If you are interested in seeing how Hubspot can support your marketing team, we would be happy to talk about it with you.
Want to know more? Contact us to talk about it.